You are currently browsing the category archive for the 'The Small Print' category.
The Sunday Salon is a virtual gathering of booklovers on the web, blogging about bookish things, visiting participating weblogs, and oh — reading books of course ;)
For 2015 I chose to set a goal on Goodreads. 2013-2014 had been slow book-wise, reading no more than 16 resp. 18 volumes. I was too embarrassed frustrated to even post the lists! ;) That's why a target of 20 seemed a bit of a challenge for 2015, but doable.
<insert drumroll please…> YAY! I surpassed my goal by 9!!! Making a total of 29 (listed further on), whisping me back to the level of 2012. #happydance
For 2016 I won't be aiming at a certain amount of books. Rather I'd be reinforcing the habit of reading more regularly. Once I've figured out the details I'll share them.
BOTNS Book Bingo
What helped keep me motivated the past year was the Books on the Nightstand Summer Book Bingo. I generated a card and though I didn't really pick my books according to the squares, it was fun checking where a read would fit and crossing it of. My friend Muizz was also playing, which made it even more fun. You should've heard me scream "BINGO!" once I got a full row completed! *grin*
Books read in 2015
Listed from most recently to early 2015:
The Mutts Winter Diaries ~ Patrick McDonnell
Terug naar Oegstgeest ~ Jan Wolkers
The Fire Kimono (Sano Ichiro, #13) ~ Laura Joh Rowland
De fietser van Tsjernobyl / El ciclista de Chernóbil ~ Javier Sebastián
History of a Pleasure Seeker ~ Richard Mason
Hug Time ~ Patrick McDonnell
Gevallen God / A God in Ruins ~ Kate Atkinson
Legend of a Suicide ~ David Vann
Potifars vrouw ~ Sophie Zijlstra
The Children Act ~ Ian McEwan
The Life-Changing Magic of Tidying Up ~ Marie Kondō
Globejotting: How to Write Extraordinary Travel Journals (and Still Have Time to Enjoy Your Trip!) ~ Dave Fox
The Buried Giant ~ Kazuo Ishiguro
De kat / 猫の客 / Neko no kyaku ~ Takashi Hiraide
Wachten op woensdag (Frieda Klein #3) / Waiting for Wednesday ~ Nicci French
Just One Evil Act (Inspector Lynley, #18) ~ Elizabeth George
Het boek van wonderlijke nieuwe dingen / The Book of Strange New Things ~ Michel Faber
Handleiding voor poetsvrouwen / A Manual for Cleaning Women: Selected Stories ~ Lucia Berlin
Geen gewoon Indisch meisje ~ Marion Bloem
Fox Evil ~ Minette Walters
Believing the Lie (Inspector Lynley, #17) ~ Elizabeth George
Housekeeping ~ Marilynne Robinson (audiobook)
Ik kom terug ~ Adriaan van Dis
Oorlog en terpentijn ~ Stefan Hertmans
Timothy's Book: Notes of an English Country Tortoise ~ Verlyn Klinkenborg
The Rise & Fall of Great Powers ~ Tom Rachman
Maandagskinderen / Synir Duftsins ~ Arnaldur Indriðason
The Strange Library ~ Haruki Murakami
How to Be Both ~ Ali Smith (audiobook)
Some new or recent, some classics, some bulky — others slim, many Anglo authors, less Dutch and a few other nationalities, hardcore literature and non-fiction next to easier stuff like mysteries/thrillers. Being easy on myself I read English language books more often in Dutch translation than usual.
Have you read any of these books?
The Year of the Daves (aka Favourite Reads of 2015)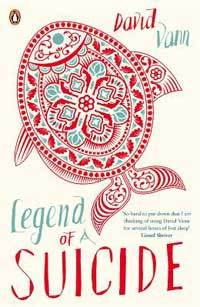 Looking back, the novel that left most of an impression is Legend of a Suicide by David Vann. It had been waiting patiently on my shelf for years — and didn't disappoint! I don't feel I've read anything like this collection before: gruesome, dreary, but touching at the same time. A rough diamant.
The most fun I had with Globejotting, a manual for travel journal keeping. It has helped me a lot and I can't wait to start over, doing all exercises.
Depending on time and inspiration I'll write a follow-up about some other highlights of 2015. For now: curl up on the couch and have a cosy Sunday!
Alas, Dewey's 24 hour readathon has ended. Even though my 'numbers' (which I'll add later) may not show it, things went very well this time! I rediscovered my love of reading; so much that I wish the event could continue for another day! Maybe it's a good thing my Lynley mysteries didn't arrive in time for the weekend — when I've finished my current book they'll probably be here to help me keep my mojo. Without the help of a RaT. And anyway, the community –YOU– will be still around for motivation!
End of the Event Meme
Which hour was most daunting for you?
None in particular: all of them due to the pull of social media and mini challenges. Of course I went to bed at three to sleep for a few hours.
Could you list a few high-interest books that you think could keep a Reader engaged for next year?
A sequel in a series you like and acknowledged page turners in a favourite genre.
Do you have any suggestions for how to improve the Read-a-thon next year?
Nope. It's perfect!
What do you think worked really well in this year's Read-a-thon?
The possibility to pick a medium of choice for updating; not just blogs AND the warm-up tip to use Storify to keep everything in one place! Here's my story.

How many books did you read?
Four (not all finished yet).
What were the names of the books you read?
Oorlog en terpentijn (finished)
Timothy's Book: Notes of an English Country Tortoise (finished, after three years on hold!)
Housekeeping – on audio
Ik kom terug
Handleiding voor poetsvrouwen
Which book did you enjoy most?
The book I'm currently reading: Ik kom terug. Loving it and I want to own a copy after I give it back to the friend who lend it to me.
Which did you enjoy least?
Maybe Housekeeping, just because audio isn't as intense as reading a book yourself. That I enjoyed this one least of all four does NOT mean I don't like it!
If you were a Cheerleader, do you have any advice for next year's Cheerleaders?
Be strict about the amount of time allotted to cheering… I found myself spending way too much time in cyberspace instead of in a story. Make a choice — and stick to it.
How likely are you to participate in the Read-a-thon again? What role would you be likely to take next time?
YESH! I can't wait! I'll sign up as reader-cheerleader again and hope to keep a better balance. ;)
A big THANK YOU to Mr Gnoe, my Instagram and blog followers, all readers, organisers, cheerleaders, challenge-hosts (and anyone I may forget) for making this event such a success. WOOT!
YESH! It's that time of year again: Dewey's 24 Hour Readathon is on. I've been looking forward to this weekend awfully much because I desperately want to get my reading mojo back. And the prospect of it actually made me pick up a book and read, read, read already in the past week. :) Let me show you my readathon stack.
I desperately hoped my order from Bookdepository would arrive in time because I'm dying to start a new Inspector Lynley mystery. But I just saw the parcel delivery van pass my home without stopping. :'( Not that I haven't enough to choose from… ;)
I'm currently reading the award-winning Oorlog en terpentijn by Stefan Hertmans, which I'll probably finish in one and a half hour. I know this because of the Readmore app I use to keep track of my reading. :) On audio I'm listening to Marilynne Robinson's Housekeeping.
My next read will either be Adriaan van Dis' Ik kom terug or Ishiguro's The Buried Giant, alternated by Lucia Berlin's collection of short stories Handleiding voor poetsvrouwen (A Manual for Cleaning Women), translated by my talented friend Maaike (and co's). The Best of Mutts comics and Timothy's Book will provide yet another change of palate.
The greens in the background are there for a reason: they'll provide healthy snacks. Homegrown radishes (did you know you can eat the leaves as well?), corn lettuce and baby spinach. I'll have to share though because Mr Gnoe is joining me in the readathon for the very first time! Yay, love having a buddy. :D
I don't plan on reading for the full stretch. I'm not feeling too well today and I never manage twenty-four hours anyway (remember, I've been up for half a day already!) Luckily staying at home, taking a rest and read is just what the doctor ordered. ;) I'm just cheating a little by starting a bit early… Local starting time is 2PM and since I'll be officially cheerleading that first hour I'm kicking-off reading at the nice round number of 1 o'clock. Shoot me if you don't approve. ;)
Wishing all participants a blast!!!
You can follow my updates during the event on Instagram via @gnoe!
Or see it all collected in one story on Storify.
What are you reading?
This week I'm playing BoBRaT again: participating in the Bout of Books readathon. Unofficially, because I was too late to sign up. But I so desperately need some pressure to tackle the books on my Mt TBR that I'm just ignoring that fact. Don't need to win any prizes anyway, as long as I'll achieve my goal. Which is..?
Readathon Goal
I want to read every day this week for at least 30 minutes, preferably in one sitting. It can be anything: from the pile of magazine clippings and leaflets that's been bugging me to one of the three books I should be reading right now…
De kleurloze Tsukuru Tazaki en zijn pelgrimsjaren / The Colourless Tsukuru Tazaki and His Years of Pilgrimage. I've joined the August 12th – September 12th readalong of Master Murakami's most recent book, which is part of Dolce Bellezza's Japanese Literature Challenge #8
Rayuela: een hinkelspel / Hopscotch by Julio Cortázar. This notorious Latin American literary experiment of 500+ pages was picked by my IRL bookgroup to be read before September 7th. Oomph.
Op de vleugels van de draak ('On the dragon's wings') was chosen as one of two books to be read in August by the Boekgrrls, a Dutch mailing list and on-line book group. And though reading along is always voluntary, I was the one to nominate Lieve Joris' newest nonfiction. So I can't drop out now, can I?!
It's not that I don't WANT to read these books, I just can't get myself to do it :( Can you help?
We've got a little more than an hour to go of the 24 Hour Read-a-Thon but I realised that I no longer feel like reading. So I'm going to quit! I've read for an embarrassing total of 3:15 hours (*hides in shame*) but that's more than I've read in a long time and I got halfway The Book of Negroes -a chunkster- so I've met my goal. ;)
You can laugh.
You can point your fingers at me.
You may argue that I'm not a worthy readathonner.
BUT I'M HAPPY WITH WHAT I'VE DONE! And I know you're all nice people and won't think anything bad of me anyway! :D
A big THANK YOU to the organisers, mini challenge hosts, cheerleaders and all participants who made this spring 2013 read-a-thon possible. I hope to see you all around next fall!
Early End of the Event Meme
Which hour was most daunting for you?
The first few hours when I had expected to read a lot in one stretch before I needed to go to a birthday party but didn't . :(
Could you list a few high-interest books that you think could keep a Reader engaged for next year?
Well, the book I have been reading today is definitely one of those: The Book of Negroes by Lawrence Hill!
Another would be Kafka on the Shore by Haruki Murakami or Julian Barnes' The Sense of an Ending for a shorter novella.
Do you have any suggestions for how to improve the Read-a-thon next year?
Not really, everything runs so smoothly! Except maybe that I don't like mini challenges that take up a lot of reading time but are too tempting to resist. I've had issues with those in previous years and now I tend to ignore the challenges as a whole so I won't get distracted.
What do you think worked really well in this year's Read-a-thon?
I can't think of anything that went better than other times!
How many books did you read?
(*whispers*) Not even one: just the first part of The Book of Negroes; books 1 and 2.
What were the names of the books you read?
Ha! I already mentioned that several times and I don't think you want to hear me say it again! LOL
Which book did you enjoy most?
Well, THAT one. ;)
Which did you enjoy least?
–
If you were a Cheerleader, do you have any advice for next year's Cheerleaders?
–
How likely are you to participate in the Read-a-thon again? What role would you be likely to take next time?
Yes please! Looking at my results I shouldn't challenge myself beyond reading though…
The Sunday Salon is a virtual gathering of booklovers on the web, blogging about bookish things of the past week, visiting each others weblogs, and oh — reading books of course ;)
Crazy Comma Momma's mini challenge for this twentieth hour is writing a haiku about the read-a-thon or the book you're reading. Poetry is not one of my strong suits but here's an attempt at a 'zen moment' in 5-7-5 syllables. Please don't laugh! ;)
In bed with the cats
reading The Book of Negroes
– Sunday morning bliss
Yay, after two-and-a-half years I'm finally participating again in the 24 hour read-a-thon! And I've been extremely looking forward to it. :) It was rather difficult to keep the date free since so many activities seem to be planned this weekend, but I was firm and only have a birthday to go to later on.
That's also why I allowed myself to start an hour earlier than the set time for my zone here in Utrecht: at 13.00 instead of 14.00. And I already know I won't be reading around the clock but that's okay: today is meant to get some reading done and I NEED that because I've been in some kind of slump and I got this Bookcrossing bookray that I want to get on with – The Book of Negroes by Lawrence Hill (Het negerboek in Dutch).
The bookmark you see I cut from a thank-you note card that was sent to me by a swap-bot member.
Delight in the little things
Cute, isn't it? That's a quote by Rudyard Kipling, the author of Jungle Book (who used to be accused of racism but got revalued later on).
I also won't be blogging, tweeting, FB-ing much today, nor participate in (many) challenges or lose myself otherwise in social media. I may post an occasional update but for me today is meant for reading even though I know the readathon is much about the community as well. A grrl has to set priorities!
Why don't you follow my example and pick up a book?
Summarizing for the Introductory Questionnaire
What fine part of the world are you reading from today?
Utrecht – the Netherlands – Europe
Which book in your stack are you most looking forward to?
Book of Negroes by Lawrence Hill
Which snack are you most looking forward to?
None in particular, though I'll be having a nice mezze dinner at a birthday party with dishes like houmous, pide bread and caponata mmmmm. :)
Tell us a little something about yourself!
I'm looking forward to having some quality time with da ladies: Juno, Nina and Kuki! Reading and cats go great together! ;)
If you participated in the last read-a-thon, what's one thing you'll do different today? If this is your first read-a-thon, what are you most looking forward to?
I haven't participated in the last read-a-thon (as I said at the beginning) but I know from previous ones that social media are majorly distracting!
If you're on Instagram you've probably heard of the monthly #photoaday meme in which people daily post a picture inspired by a list of tags. I tried it once, but couldn't keep up.
Yesterday I found out that The Estella Society -a reading playground built by book bloggers- is hosting something alike in March: a Bookish Photo a Day. I love the idea! So I jumped in right where we are, in week #2.
Curious about my contributions? View them on Statigram (hashtag #EstellaGram)!
Is anyone else playing along?
The Sunday Salon is a virtual gathering of booklovers on the web, blogging about bookish things of the past week, visiting each others weblogs, and oh — reading books of course ;)
The Sunday Salon is a virtual gathering of book lovers on the web, blogging about bookish things of the past week, visiting each others weblogs, and oh — reading books of course ;)
Last November -that's almost a year ago indeed- Annemieke from Rozemarijn kookt asked on Twitter who would like to receive her copy of A Vegan Taste of Greece, by Linda Majzlik. Of course I was interested and she kindly sent me the book. Shame on me that I didn't cook from it until a couple of weeks back!
Now why did I finally pick it up?
Well.. There's a PPK Cookbook Challenge on the Post Punk Kitchen forum. A vegan cookbook is chosen each week, and if you don't have that particular book you can choose another from your shelves. This event coincides with Uniflame's Cookbook Challenge on She Likes Bento. The difference between the two?
PPK: any (vegan) book will do if you don't have the designated title but you'll need make at least three recipes from it.
She Likes Bento: there's no set amount of recipes to try (just one will do) but you have to choose an unused or hardly touched cookery book.
Conclusion: I'm making it harder on myself by combining the two. What else is new? ;)
A Vegan Taste of Greece by Linda Majzlik
A Vegan Taste of Greece was the only vegan cookbook I own from which I hadn't tried a single recipe — so there really was no other first choice possible.
After a short introduction on the origin of Greek food and its place in society, A Vegan Taste of Greece starts with an alphabetical list of a regular pantry, often including nutritional info. Nice! The rest of the book is divided into chapters focussing on different courses: mezedes, soups, main courses, vegetables, grain accompaniments, salads, sauces and dressings, breads, desserts and baking.
I've made 4 recipes from 3 different sections: a main course, grain accompaniment and two salads, one green and one legume (bean). Each recipe indicates the amount of servings; mostly four but since it's just the two of us here at Graasland, I usually made half of it.
Main course: Briami
Briami is a vegetable casserole containing potatoes, courgette, red pepper, mushrooms, onion, tomatoes and a selection of herbs & spices like fennel seeds, rosemary and thyme. Wine and lemon juice provide additional liquid. The dish is finished off with olives and vegan cheese, for which I used a combination of faux parmezan and 'rawmezan' (a mix of ground nuts & 'nooch', aka nutritional yeast). Sounds good, doesn't it?
Despite of all the flavourful ingredients I found the briami rather bland. :( It could have used more sauce and even then I'm not sure it would be really good. Maybe my expectations were too high? Mr Gnoe thought it was okay.
It's an easy recipe to make but it does take some time preparing because of all the ingredients required. And then it has to go into the oven for about an hour. Oven dishes that can be prepared in advance are great when having guests for dinner, but I don't think I would dare serve this. Don't want to confirm a possible prejudice that vegan food is tasteless! ;)
Grain accompaniment: Minted bulgar with leeks
The bulghur was… nice, but once more a bit dull. Admittedly I forgot to garnish with fresh mint. But I could hardly taste the dried peppermint that was also in it, and the leeks were so overcooked that they'd lost most of their flavour. I like leek, so it was another disappointment. I would consider making this again though: as an idea it's more exciting than just wheat, it's easy to make and a great way to add more vegetables to a meal. Next time I'd bake the veg separately until just done and combine everything at the end. It was a good combo with the seitan stroganoff though!
Green salad: fennel and avocado
I've got this surprisingly good fennel-tomato salad recipe and avocado is one of my favourite fruits, so I was eager to try a Greek recipe combining them. The biggest differences between the two are that the fennel is cooked first in the new recipe and it doesn't have basil & black olives but watercress (and avocado) instead.
You can probably guess by now… Another flavourless dish. I expect Mediterranean food to be tasty! Furthermore, all ingredients were soft (not to say mushy) and I rather like a crunchy salad. My ideas for improvement? Keep the fennel raw, add olives & basil and maybe a little ouzo or other anise-flavoured drink. Of course having alcohol with your meal decreases the body's ability to absorb vitamins, but sometimes there's something to say for taste too. ;) But to be honest, I think I'll stick with my regular fennel salad recipe.
Bean salad: chickpea
The last recipe, chickpea salad, was a small hit — the best of the bunch anyway. Especially considering it's rather basic: a mix of cooked garbanzos, cucumber, a variety of peppers, red onion, black olives and a dressing made of skinned and finely chopped tomatoes, balsamic vinegar, olive oil, crushed garlic, fresh thyme and black pepper. I added a little salt as a flavour enhancer too. Yes, I will make this salad again when I have an open can of chickpeas!
The verdict
It will come as no surprise that I'm not really enthusiastic about A Vegan Taste of Greece. I'm considering discarding it, but first I'd like to try some recipes from other sections, like…
A mezé ~ walnut-stuffed mushrooms? Yellow split-pea spread fava? Courgette critters? Or jumping into the deep end with gyros made from scratch, finally using that bag of seitan starter I purchased?
Dessert ~ baked nectarines or orange glazed peach slices, almond & apricot pastries… They make my mouth water. :) But all require the purchase of a new ingredient: orange flower water.
Baked goods ~ sesame cookies, almond cakes, semolina & lemon slices… No? ;)
And the baked beetroot in the vegetable chapter sounds like good too.
So there's more to explore before the curtain falls. I'd like to try one each from the categories above before my final judgement. Still, there's a whole series of A Vegan Taste of… (France, India, East Africa, et cetera) by Linda Majzlik. Getting me to try another would require a copy to literally fall into my hands again.
I hardly dare finish with one more flaw of the book.. :\ I think it's partly a regional problem and doesn't apply to Americans. MANY of the recipes use vegan cheese or yoghurt. I haven't been able to find a good cheese substitute and feel reluctant to buy and use the varieties available here. In the US there's Dayia… Reviews are raving so I'd love to get my hands on that!
And soygurt… It lacks the sour freshness of its animal equivalent, which cannot be fully compensated by adding (extra) lemon. I just purchased a tub though, so I do plan on trying one of the recipes containing yofu too.
To be continued?
If you've got one of Majzlik's books I'd love to hear you think!
– – – – –
Join Beth Fish's Weekend Cooking with a food-related post!
The Sunday Salon is a virtual gathering of book lovers on the web, blogging about bookish things of the past week, visiting each others weblogs, and oh — reading books of course ;)
Months ago, it must have been somewhere in spring, I suddenly had enough. I haven't told you (really didn't mean to keep it a secret! ;) but I quit all the challenges I'd subscribed to for 2012. Just like that, cold turkey, after having been an addict for years! ;)

Then came October… autumn. And Uniflame announced a two-month Cookbook Challenge inspiring people to cook from under-used cookbooks — who doesn't have some of those hanging around? Of course I had to join. :) So Gnoe's back in business!

Since it's VeganMoFo this month, I'll concentrate on vegan cookbooks. Starting of with A Vegan Taste of Greece by Linda Majzlik, that was passed on to me earlier this year — and until now I hadn't tried a single recipe. I'll probably share my experiences with the book next Sunday Salon.
Other vegan cookbooks on my shelf that qualify:
Non-fish-a-licious and
(maybe) Lisette in Luilekkerland, both by Lisette Kramer.
Vegetarian nominees:
Yogi food (Jet Eikelboom & Seth Jansen),
The Art of Tofu (Akasha Richmond),
Living Among Meat Eaters (Carol J. Adams),
Koken in McDonald's kitchen (Andy McDonald).
One omni cookbook that I've had for two decades, haven't cooked from and still fail at getting rid of: Aan tafel met Yvonne Keuls, a collection of family recipes from Yvonne Keuls, a Dutch writer with Indonesian roots.
Which cookbooks have you hardly used?
– – – – –
Join Beth Fish's Weekend Cooking with a food-related post!