You are currently browsing the category archive for the 'The Small Print' category.
Where has '22 gone to so fast? Regular media are looking back on past events and deaths; social media are being flooded with New Year's resolutions for 2023. And me? I'm just looking forward to another Japanese Literature Challenge hosted by Dolce Bellezza. That's what I like about this time of year!
The challenge runs from January through February. Will you join us?
Here's what I have planned…
Read De Zwemmers (The Swimmers) by Julie Otsuka.
Read Tokyo Vice by Jake Adelstein (providing I can get my hands on an affordable copy).
Make a dish from the Vegan Japan Easy cookbook.
Continue to listen to Jake Adlestein's interesting investigative podcast The Evaporated: Gone with the Gods about the "fascinating and bizarre world of Japan's jouhatsu" (missing persons).
By the way: this is the first post on this blog that I made in the WordPress Gutenberg editor! #learning
I've slept in, made a pot of coffee and officially welcomed all participants of da house to Dewey's fall 2020 24RaT (being hubs, and Kuki, Sumi & Effie our feline supporters). Now I just want to put up a short start-of message and GO READ!!!
Are you read-a-thonning this weekend as well? If you're from a different time zone you'll notice I'm ahead of the official kick-off. That's because it's so much more exciting to awake to the event and get going right away — how it started with our founder Dewey. So I'm not cheating (it's not even a contest LOL); just making the most of it :-) I feel I can as this is my 11th (?) year participating.
So, it 10:45am and I am picking up Petite.
Hooray! Only two more nights till Dewey's fall 2020 24 hour readathon (24RaT for short)! Although officially starting at 2PM in my time zone, I'll probably begin right after waking up as I've kept the weekend free and Mr Gnoe and I love to start our Sats & Suns with coffee, cats and books smartphones books in bed.
I'm confident I'll be able to finish my current read: Petite (Little), by Edward Carey; an historical novel about the life of Madame Tussaud. Right now I'm at chapter 27 of 72 so I have quite a bit to go.
I saw a friend posting enthusiastically about this book and decided to pick it up with my recently renewed library subscription. So far it's an ejoyable read.
Of course I'll also be playing Book Bingo — and Petite will help me smoothly cross off "read a book with with illustrations" and "with a person on the cover".
I will probably mostly be updating on Instagram (@gnoe) and I hope to see you there!

2019 was an all-time low in reading Japanese Literature for me. I managed only one book originating in Japan: The Travelling Cat Chronicles by Hiro Arikawa.
I hate and love this story at the same time.
And I might not even have read it if it wasn't for Dolce Bellezza's annual Japanese Literature Challenge! So I'm very happy to join in again this January 1st.
In a nice coincidence dear Mr Gnoe gifted me Hiromi Kawakami's The Ten Loves of Mr Nishino last night on New Year's Eve. That will be up first for the challenge; I already picked a bookmark to go with it :-D

Aiming high this 13th Japanese Literature Challenge
If everything goes the way I want I will be reading six pieces of Japanese literature for the JLit challenge, running from January through March. I committed to join the monthly reads of the Japanese Literature group bookclub on Goodreads AND their casual buddy read of The Aosawa Murders (Riku Onda), after publication in February. The Ten Loves of Mr Nishino was this group's read for December so I'm tagging a little behind. But that's okay since I have already read January's choice.
Goodreads' Japanese Literature group Bookclub reads for January – May 2020
January: The Woman in the Dunes by by Kobo Abe — a masterpiece unlike any other book so please try it if you haven't yet! I read it in 2011.
February: Go by Kabuki Kaneshiro
March: The Lake by Yasunari Kawabata — maybe my favourite Japanese author!
April: The Emissary a.k.a. The Last Children of Tokyo by Yoko Tawada
May: Shipwrecks by Akira Yoshimura
On top of that I mean to read along with #JapaneseLitChallenge13 participants in March, tackling Junichiro Tanizaki's The Makioka Sisters . I have the 576 page chunkster on my shelf since I failed a previous collective reading.
All in all a busy schedule this first quarter of 2020! I should be able to manage however, since I surpassed last year's goal of reading 20 books with two. That's almost two books a month. The new target I set for 2020 is 25. Participating in Susy's 24-in-28 Readathon on Goodreads the weekend of January 18-19 will probably help me get off to a good start.
I can do this!
Looking forward to it all!
Do you like Japanese Literature as much as I do? Do you have any reading resolutions for the new year? I'd love to hear it!
On my last trip to Terschelling island I met a travelling cat. A handsome black fellow having its own raised bench on the passenger's side of a grey van. Food and water in their slots on the dashboard. The car being parked, the cat was playing the cool dude, resting its elbow on the open window. Or so it seemed ;-)
I had to think back to this regularly while reading The Travelling Cat Chronicles by Hiro Arikawa — the first book I picked and finished for this year's Japanese Literature Challenge 12. A picture of the cat I met would be perfect here but alas, I have none.
The Travelling Cat Chronicles is a novella about a stray cat called Nana (七) being taken in by Satoru. They become companions in life, and on the road in Satoru's grey van.
When I finished the book -a month ago already- I threw it across the room. I HATE IT! I shouted — at the same time telling the hubs to quickly go read it… I guess the story more upsets me really than evoke rage. It is way too close to my heart, and I can't take it.
So, kudos for Arikawa's way with words. When another of her works is translated I will be sure to pick it up. But I may never read The Travelling Cat Chronicles again. It's a thumbs up I don't dare recommend. All I can say is: if you plan on gifting this book, be sure to include hankies.
Back to the Japanese Literature Challenge. Unfortunately not much will come of my plans to read a J-Lit for each of the three months. It ends March 31st and though I gave Haruki Murakami's De moord op Commendatore (Killing Commendatory) first part; een idea verschijnt a shot, the story didn't grab me at this moment — even inducing another reading slump. I'm giving up now but still declaring JLC#12 a success. I wanted to read Japanese Literature again, and did.
And so I can choose something new from Mt. TBR… it's going to be John Irving: Last Night In Twisted River!
Have you read any of these books? What did you think?

Seven years ago I did a wrap-up meme of my books read in 2010. Although I'm a way less prolific reader now and we're already in February (did we skip a month?), I feel like doing this 2018 in review again anyway.
So here goes…
The first book you read in 2018: De tolk van Java (The Interpreter from Java) ~ Alfred Birney
The last book you finished in 2018: Zomervacht ~ Jaap Robben
The first book you will finish/finished in 2019: The Death of Achilles ~ Boris Akunin
Your favorite "classic" you read in 2018: the oldest book I've read last year is Een ezeldroom ("A Donkey Dream") by Inez van Dullemen, published in 1977. I liked it but wouldn't particularly recommend, unless you're my age or have a home in rural France that you bought as a ruin and renovated…

The book series you read the most volumes of in 2018: I only read one book from a series: Aaron Falk #1 "The Dry" by Jane Harper. Will definitely read the sequel.
The genre you read the most in 2018: modern literary fiction.
The book that disappointed you: The Pillars of the Earth by Ken Follett. It wasn't bad (and even good in parts) but it had been on my wishlist for ages and expectations were high thanks to raving reviews in my bookish friends circle.
The book you liked better than you expected to: The High Mountains of Portugal by Yann Martell. I had bailed this one before because it annoyed me, but I was curious how it would turn out after the second and third part of the book.
The hardest book you read in 2018 (topic or writing style): The Interpreter from Java by Alfred Birney. The subject of being a child of the Indonesian colonial war survivors is close to home for me.
The funniest book you read in 2018: Donkey Work by Doreen Tovey.
The saddest book you read in 2018: The Golden Legend by Nadeem Aslam.
The shortest book you read in 2018: Simon's Cat by Simon Tofield.
The longest book you read in 2018: The Pillars of the Earth.
A book that you discovered in 2018 that you will definitely read again: The Golden Legend. I seldom reread books but this terrific novel certainly stands a chance.
A book that you never want to read again: The Interpreter from Java. Although the topic is close to my heart, this novel is way too long and not always written well. In my opinion it would have benefited by an additional review by the editor.
And finally, a New Year's Resolution: as I mentioned in my previous post I want to try and spend more time reading this year.
Looking back at my reading year in this way makes me realise that I have read way more Dutch literature than before. Partly due to my bookclub's choices, but not entirely. I both started and ended 2018 with novels from domestic authors and read two more. To my liking, I must admit ;)
Go to Goodreads if you want to see all the books I read in 2018 and how I rated them!
This post consists of quick updates on my reading and socialising in the 24 Hour Readathon. New updates will be posted on top during the day.
Hour 24 – THE END
This last hour I spent reading two more stories in Ghostly:
Click-Clack the Rattlebag ~ Neil Gaiman (2013)
They ~ Rudyard Kipling (1904)
I *almost* finished the latter; having only five more pages to go.
Total pages read: 173
Total amount of time read: 4.55 hrs
Hours listened: 1
Hours watched: 2
Books finished: 1
Stories read/listened to: 6
Total amount of time spent relevantly socialising: 5.35 hrs
I will need to double check my numbers though ;)
Hour 22-23
Uh-oh, after reading P.G. Wodehouse's Honeysuckle Cottage (which unexpectedly made me chuckle and read out parts aloud to Mr Gnoe), I just spent 70 minutes on selecting five nominations for my book group. Well, just shows you I take these things seriously.
These are the ones I suggested:
The Golden Legend ~ Nadeem Aslam (latest novel from one of my all-time favourite authors)
Dear White People ~ Justin Simien (must-read, recommended by my friend @rehanu)
My Cousin Rachel ~ Daphne du Maurier (classic haunting tale that I haven't read yet and seems appropriate for this time of year)
Portrait of a Turkish Family ~ Irfan Ogra (highly recommended 1950 autobiography that I'm curious about but can't remember who mentioned this)
The Keeper of Lost Things ~ Ruth Hogan (something light that speaks to my love for objects (a museum girl at heart))
Next Saturday we're choosing one as our next read. Any of them that you want to plug to my fellow book club members???
Hour 21
Been updating this post and doing some socialising on the web/IG/Litsy. I love how so many of us are reading haunted haunting tales; I don't recall that from previous autumn editions but it may very well be that I'm more sensitive to it now because I'm reading ghost stories myself this time. Neither the spooky genre nor short story collections appear much on my nightstand.
Hour 13-20
Oops. I went to bed for what was intended to be a 4 hour nap… and awoke at nine. Half an hour to make coffee, brekkie, feed the critters etc. and now I gathered everything and everyone on the bed to continue for the last stretch. It's awesome fall weather outside mmmmmm real cosy! Next ghost story up is P.G. Wodehouse's Honeysuckle Cottage (1925).
How are you all doing???
12th Hour
I read the 1904 ghost story The Mezzotint by M.R. James in Ghostly.
Total pages read: 100
Total amount of time read: 2.55 hrs
Hours listened: 1
Hours watched: 2
Books finished: 1
Total amount of time socialised: 3.30 hrs
Hour 6-11
How can it be hour 11 already? I haven't gotten that much reading done yet! Time flies when you're having fun and I was out with my film club friends watching Gone Baby Gone, an adaptation of Dennis Lehane's novel directed by Ben Affleck. It's a captivating and intelligent mystery that I can definitely recommend – though not to the tender-hearted. I'm putting Lehane on my list of authors to read! The film itself took two hours but of course we had lots to talk about afterwards and I know all these ladies from the book community. All in all I was away from home for a full four hours.
It's almost 1AM over here and I'm starting the next story in Ghostly but I'll probably won't be able to finish it before my eyes get too heavy and I need to go sleep for a bit…zzz
See you later! Read on!
Hour 3-5
I finished "Donkey Basics", reading 35 pages in 50 minutes. Surprisingly enough the chapter about breeding was much more interesting than expected.
I finally got to listen to the 15 minute story Memento Mori by Stephanie Victoire aka @weepingwillow84 on instagram; a perfect September tale nominated for the BBC National Short Story Award 2017!
As I wasn't done cooking and doing housework in a quarter of an hour (lol) I continued with Gone Girl by Gillian Flynn on Audible for about 45 minutes. Now I'm writing this update while having dinner: a chill-veggie kind of stew with spinach and avocado & olives on the side. Don't worry, Mr Gnoe isn't here so I'm not being rude ;)
Next up is my film club… Will share later what adaptation we watched!
Total pages read: 80
Total amount of time read: 2.20 hrs
Hours listened: 1
Books finished: 1
Total amount of time socialised: 1.15 hrs
Hour 1-2
I have read for one and a half hour and in that time I finished the 1911 ghost story The Beckoning Fair One by Oliver Onions. I hadn't expected it to affect me so much! I really need a break now and am glad to have selected books to alternate with this collection. Like… donkeys! Those always make my heart smile. But first I'll stop by some other participants!
(Pages read: 45)

Hour 0 Opening meme
I answered most of the questions for the traditional opening meme in my intro post but here's a summary.
I'm reading from Utrecht, the Netherlands, Europe (mostly at home).
The books in my stack that I'm mostly looking forward are my two current reads that I hope to finish: Ghostly (Audrey Niffenegger) and "Donkey Basics" (Margret Keijzer).
Strangely enough I'm not looking forward to any specific snack… but to eating healthy today!
J-Lit (Japanese literature) is a favourite genre and I'm a sucker for donkeys and (other) rescue animals – the older the better ;)
I intend to take healthy snacks and drinks and get as little distracted as possible…
WOW, I've been so much looking forward to this October 2017 edition of Dewey's 24 Hour Readathon! It's my favourite fall event :) I've done a minimum of prepping and will be participating low key as my main goal is to just read at long(-ish) stretches of time. I slowly seem to crawl out of a reading slump that's been going on for years and I'll do anything it takes to keep going forward!!
But the fact that so many people across the globe are reading and interacting about it at the same time is of course a big part of the thrill so you'll also find me hopping a few blogs, and mainly post as @gnoe on Instagram, Litsy and now and then Twitter (@graasland). Join me there?!
My plans
Part-time participant
I'm never able to read for the full 24 hours so I'm not going to try. Just as much as I can! Next to that I will try to make my other activities book related. My film club is gathering tonight and it's my turn to choose a movie. So I suggested a few adaptions of literature. I had hoped to watch Red Sorghum from Zhang Yimou again (one of my all-time favourites), but I wasn't able to get a copy in time. Now my bet is on either Ben Affleck's Gone Baby Gone (based on a story by Dennis Lehane), or Alan Parker's Midnight Express (Billy Hayes) – both available on Netflix. Which one would you pick if you could join us?
Nominating the next read for my book club is also up to me this month. I have a long list of options ready in Goodreads but I can only suggest five… Picking and sending out those is on my chore list for today as well.
Books
During the RaT I'll definitely be reading the following two books:
Ghostly, A Collection of Ghost Stories ~ Audrey Niffenegger
Thoroughly enjoying this selection of haunting fiction for the month of Spooktober. I'm currently at page 137 in Oliver Onions' 1911 tale The Beckoning Fair One. Since I don't read a lot of short story collections I will alternate this with other books.
Ezel-basics (Donkey Basics) ~ Margret Keijzer
A while ago I stranded at chapter 8 of 12 in this nonfiction book about donkeys; probably because I don't care about the subject of breeding. I'm really into rescue animals and know there's a surplus of animals looking for a home without needing to add to that amount. Besides, as a volunteer at the Ezelsociëteit donkey sanctuary my interest goes out to the wellbeing of and caring for these wonderful creatures.
A novel from Mount TBR, to be chosen at the moment I'll be starting it.
Optional reads
During household tasks and such I hope to listen to @weepingwillow84's short story Memento Mori, broadcasted on BBC Radio4 on September 22nd. Chances are I won't be allowed access though as I'm not an inhabitant of the Commonwealth…
I have plenty of books on my shelf that I'm looking forward to. Don't you just love picking a new read that fits your mood? A few titles to choose from:
The Marriage Plot ~ Jeffrey Eugenides
The Sisters Brothers ~ Patrick De Witt
De wijnrepubliek (The Republic of Wine) ~ Mo Yan
Lord of the Flies ~ William Golding
Here I Am ~ Jonathan Safran Foer
Monica, mijn vader (Monica, My Father) ~ Maaike Sips
De offers (The Sacrifices) ~ Kees van Beijnum
The Lives of Others ~ Neel Mukherjee
The Master and Margarita ~ Mikhail Bulgarov
Ghana Must Go ~ Taiye Selasi
Plus several J-lits. I've been neglecting my favourite genre and decided to join in Dolce Bellezza's 11th Japanese Literature Challenge, running through January 2018 (sign-up post to be written later).
The Book of Tea ~ Okakura Kakuzo
Kokoro ~ Natsume Sōseki
The Unconsoled ~ Kazuo Ishiguro
Then there's also that DNF that's been bugging me: The High Mountains of Portugal by Yann Martel that I would still like to give another chance. It -literally- drove me crazy with its (so far) 87 pages of one Tomás driving a car on a quest to I'm-not-sure-what-yet.
These days I usually quit when the narrative still doesn't grab me around page 80, but I've had trouble getting into Martel's books before and they were totally worth pushing through the hard part.
Any of these you want to recommend? Or advise against? I would love to hear your thoughts!
Local starting time: 14.00 o'clock.
Reading from Utrecht, the Netherlands, Europe
The Sunday Salon is a virtual gathering of booklovers on the web, blogging about bookish things, visiting participating weblogs, and oh — reading books of course ;)
For 2015 I chose to set a goal on Goodreads. 2013-2014 had been slow book-wise, reading no more than 16 resp. 18 volumes. I was too embarrassed frustrated to even post the lists! ;) That's why a target of 20 seemed a bit of a challenge for 2015, but doable.
<insert drumroll please…> YAY! I surpassed my goal by 9!!! Making a total of 29 (listed further on), whisping me back to the level of 2012. #happydance
For 2016 I won't be aiming at a certain amount of books. Rather I'd be reinforcing the habit of reading more regularly. Once I've figured out the details I'll share them.
BOTNS Book Bingo
What helped keep me motivated the past year was the Books on the Nightstand Summer Book Bingo. I generated a card and though I didn't really pick my books according to the squares, it was fun checking where a read would fit and crossing it of. My friend Muizz was also playing, which made it even more fun. You should've heard me scream "BINGO!" once I got a full row completed! *grin*
Books read in 2015
Listed from most recently to early 2015:
The Mutts Winter Diaries ~ Patrick McDonnell
Terug naar Oegstgeest ~ Jan Wolkers
The Fire Kimono (Sano Ichiro, #13) ~ Laura Joh Rowland
De fietser van Tsjernobyl / El ciclista de Chernóbil ~ Javier Sebastián
History of a Pleasure Seeker ~ Richard Mason
Hug Time ~ Patrick McDonnell
Gevallen God / A God in Ruins ~ Kate Atkinson
Legend of a Suicide ~ David Vann
Potifars vrouw ~ Sophie Zijlstra
The Children Act ~ Ian McEwan
The Life-Changing Magic of Tidying Up ~ Marie Kondō
Globejotting: How to Write Extraordinary Travel Journals (and Still Have Time to Enjoy Your Trip!) ~ Dave Fox
The Buried Giant ~ Kazuo Ishiguro
De kat / 猫の客 / Neko no kyaku ~ Takashi Hiraide
Wachten op woensdag (Frieda Klein #3) / Waiting for Wednesday ~ Nicci French
Just One Evil Act (Inspector Lynley, #18) ~ Elizabeth George
Het boek van wonderlijke nieuwe dingen / The Book of Strange New Things ~ Michel Faber
Handleiding voor poetsvrouwen / A Manual for Cleaning Women: Selected Stories ~ Lucia Berlin
Geen gewoon Indisch meisje ~ Marion Bloem
Fox Evil ~ Minette Walters
Believing the Lie (Inspector Lynley, #17) ~ Elizabeth George
Housekeeping ~ Marilynne Robinson (audiobook)
Ik kom terug ~ Adriaan van Dis
Oorlog en terpentijn ~ Stefan Hertmans
Timothy's Book: Notes of an English Country Tortoise ~ Verlyn Klinkenborg
The Rise & Fall of Great Powers ~ Tom Rachman
Maandagskinderen / Synir Duftsins ~ Arnaldur Indriðason
The Strange Library ~ Haruki Murakami
How to Be Both ~ Ali Smith (audiobook)
Some new or recent, some classics, some bulky — others slim, many Anglo authors, less Dutch and a few other nationalities, hardcore literature and non-fiction next to easier stuff like mysteries/thrillers. Being easy on myself I read English language books more often in Dutch translation than usual.
Have you read any of these books?
The Year of the Daves (aka Favourite Reads of 2015)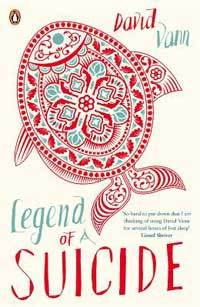 Looking back, the novel that left most of an impression is Legend of a Suicide by David Vann. It had been waiting patiently on my shelf for years — and didn't disappoint! I don't feel I've read anything like this collection before: gruesome, dreary, but touching at the same time. A rough diamant.
The most fun I had with Globejotting, a manual for travel journal keeping. It has helped me a lot and I can't wait to start over, doing all exercises.
Depending on time and inspiration I'll write a follow-up about some other highlights of 2015. For now: curl up on the couch and have a cosy Sunday!
Alas, Dewey's 24 hour readathon has ended. Even though my 'numbers' (which I'll add later) may not show it, things went very well this time! I rediscovered my love of reading; so much that I wish the event could continue for another day! Maybe it's a good thing my Lynley mysteries didn't arrive in time for the weekend — when I've finished my current book they'll probably be here to help me keep my mojo. Without the help of a RaT. And anyway, the community –YOU– will be still around for motivation!
End of the Event Meme
Which hour was most daunting for you?
None in particular: all of them due to the pull of social media and mini challenges. Of course I went to bed at three to sleep for a few hours.
Could you list a few high-interest books that you think could keep a Reader engaged for next year?
A sequel in a series you like and acknowledged page turners in a favourite genre.
Do you have any suggestions for how to improve the Read-a-thon next year?
Nope. It's perfect!
What do you think worked really well in this year's Read-a-thon?
The possibility to pick a medium of choice for updating; not just blogs AND the warm-up tip to use Storify to keep everything in one place! Here's my story.

How many books did you read?
Four (not all finished yet).
What were the names of the books you read?
Oorlog en terpentijn (finished)
Timothy's Book: Notes of an English Country Tortoise (finished, after three years on hold!)
Housekeeping – on audio
Ik kom terug
Handleiding voor poetsvrouwen
Which book did you enjoy most?
The book I'm currently reading: Ik kom terug. Loving it and I want to own a copy after I give it back to the friend who lend it to me.
Which did you enjoy least?
Maybe Housekeeping, just because audio isn't as intense as reading a book yourself. That I enjoyed this one least of all four does NOT mean I don't like it!
If you were a Cheerleader, do you have any advice for next year's Cheerleaders?
Be strict about the amount of time allotted to cheering… I found myself spending way too much time in cyberspace instead of in a story. Make a choice — and stick to it.
How likely are you to participate in the Read-a-thon again? What role would you be likely to take next time?
YESH! I can't wait! I'll sign up as reader-cheerleader again and hope to keep a better balance. ;)
A big THANK YOU to Mr Gnoe, my Instagram and blog followers, all readers, organisers, cheerleaders, challenge-hosts (and anyone I may forget) for making this event such a success. WOOT!