You are currently browsing the tag archive for the 'david mitchell' tag.
While the weather is turning rather nasty as if to mourn, the fall edition of Dewey's 24 hour readathon has ended. And I'm SO glad I participated! It remembered me of 'old times'… making me all warm and glowy inside. ;)
What I read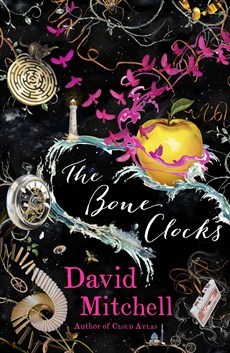 As planned I immersed myself in The Bone Clocks by David Mitchell and got some 20% down. Love it! I'm glad it's a tome and I still have the majority to go. :) I'm sorry I can't give you a short summary of this magical realist novel yet – I'll have to see where it's going first! The birthday party that broke up this RaT was of family I hadn't seen in a long time. Of course I was very eager to see and speak to everyone, but it didn't take long or I longed to be back in 'Mitchell-verse'.
During some housework I also listened to a short story on audio by Esther Verhoef, called Nouveau Riche. I hadn't read anything from her yet and I now don't think I will again. The account of expats in France reluctantly receiving friends from the past was largely predictable and not at all exciting. It was… just okay I guess.
The numbers
To help me keep track of time I used the Timelytics Time Log app on my phone. Handy!
Total of time read: 6:55
Of which the audiobook took: 0.55
This surprised me as it feels like I read for more than a scant seven hours. I could have gotten in another one at the end but I was hungry and got distracted by making lunch. Before I knew the readathon was over! :( But I'm not going to let that spoil my mood: it was fun and I haven't read this much in twenty-four hours for a long time!
Already planning next time!
In my start-up post I didn't know yet where I'd pop up in cyberspace. It happened to be on twitter (where I hadn't been for a long time either; it's becoming a theme! ;) Twitter is quick and dirty easy, which makes it perfect if you want to feel connected but spend not too much time at your computer or mobile device. And socializing, I realized, is something I really love about Dewey's readathon and missed some of the previous times I participated. A big thank you to Cautious' Katja B. (@eeyorenyk) whom made me aware of it (ánd was a faithful cheerleader).
Jotting down my plans for next time here so that I'll know where to find them in six months time.
I'll try to completely clear my schedule so I can devote the full 24 hours to the readathon.
I'll reserve some time for socializing — and to keep me to it I may even sign up as a cheerleader!
I'll return to pre-readathon planning:
think about food & snacks; prepare some meals in advance (including a lentil-, pasta – or couscous salad and possibly lasagne or casserole),
line up some audio books for when I can't read a physical copy and make an actual schedule for when to use these,
revive my 'readathon update post' template,
get some drafts set up.
Edited to add after listening to other participants' experiences:
read successive books from a (familiar) series – for example the Parasol Protectorate series by Gail Carriger (I'm up to #3 Blameless);
go read in a library for a while.
Last but never least

I really enjoyed seeing familiar faces names in my time-line – old times relived! My IRL readathon buddies were Mr Gnoe and da kittehs Nina and Kuki, one on each lap (from me and hubs that is). A fun fact is that Mr Gnoe and I are both reading the same book; he's got the paper -limited edition- copy and I have my Kobo e-book. Can you imagine anything more cosy? :D
I'd like to thank all cheerleaders, hosts and participants whom made this readathon a success. And I salute the memory of Dewey, without whom we never would've had this marvellous event. I wonder if it's a (perfect) coincidence that there was a cameo of Professor Dewey in The Bone Clocks today???
Wow, two blogposts in one week? Sure, why not! It will probably be even more because tomorrow I'm participating in the biannual 24 hour readathon. I'm playing by my own rules and adjusted the time element because my cousin is hosting a "Just sixty" birthday party and I don"t want to miss that (either)!
My plan
The official times for my region are 2PM Saturday – 2PM Sunday. As I have to leave for the party around 3:30 ánd need to get dressed for the occasion -you all watch Downton Abbey and know how it works, right?- that doesn't leave much room for reading. So I'll be brave and set my alarm clock at 7:30 PM to start RaT-ing early!
We'll get to the party venue by bus on which I hope to be able to do some unofficial cheerleading. If I don't get carsick that is… >.< Once home again I'll probably go to bed and get up indecently early next day.
Book(s)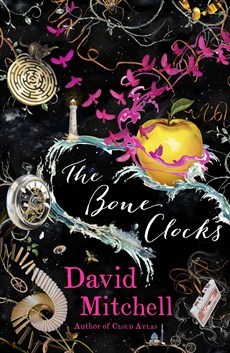 I plan on immersing myself in just the one book: The Bone Clocks, by David Mitchell. *happy dance* Mitchell is my favourite author and I've been looking forward to this novel SO much! I wonder which old acquaintances will I meet?
The book is 600+ pages and I want to finish it before a book club meetup on November 15th. That won't be an easy feat in my current reading pace. So I have started already and am currently on page 15. My progress can be followed on Goodreads and I may occasionally post here too.
In case I really need a change of palate I will be reading short stories from Haruki Murakami's The Elephant Vanishes. Can't wait to get comfy and read-read-read!
The rest
I probably won't be participating in (m)any mini challenges because I know they just distract me from reading. The same goes for blogging and spending time on social media. But you never know where you'll meet me in cyberspace during the RaT! Where can I find you?
This is the first, of hopefully many, guest posts by Mr Gnoe. As a listology addict he compiled a Black Swan Green Soundtrack for us!
In a book about a teenager situated after 1960, music has to play an important role. Music is a big part of youth culture and David Mitchell does a superb job of sketching the life of a young teenager in the eary 80s (I know, I've been there ;))
There is a lot of 'boyish' music, like Madness, Elvis Costello, Adam Ant and the Specials. Music a boy wouldn't have to be embarrassed about to like in front of his friends. But secretly Jason likes some 'softer' songs as well, like 'Heaven' by Talking Heads and John Lennon's #9 Dream (not coincidentally Mitchell's second book is called number9dream).
Music plays a big part throughout the book, but Mitchell really goes wild in one of the last, hilarious chapters 'Disco' (or should I say one of the last stories, since every chapter reads like a story on its own). This reads completely natural because events occur while the music is playing and you can imagine the characters remembering exactly who did what during which song, years after. And if you know and love these songs, like Gnoe and me, it's a feast to read :)
All the songs in the book together form a nice soundtrack. In the 80s I would've made a Black Swan Green compilation cassette but now it's a playlist for my iPod. Here's what's on it!
January man
Don't You Want Me – Human League (1982)
The first chapter 'January Man' starts with the phone ringing in the office of Jason's father. From his sister julia's room 'Don't You Want Me' is thumping out dead loud and kicks off the book.
Hangman
The Man with the Child in His Eyes – Kate Bush (1978)
Songbird – Fleetwood Mac (1977)
Julia is playing these two melancholic songs in her room, telling us (the readers) she's not as tough as she pretends to be and not as lucky as Jason thinks she is.
Bridlepath
Virginia Plain – Roxy Music (1972)
Jason secretly plays Julia's Roxy Music LP in her room ("Julia'd go ape!"). At first I thought I had spotted a goof, because Virginia Plain was Roxy Music's debut single but was not included on their debut LP. Wikipedia tells me it was rereleased in 1977 to promote their Greatest Hits album, so this must be the LP in Julia's collection.
Rocks
Heaven – Talking Heads (1979)
Jason is seriously impressed by Julia's boyfriend Ewan's new car and his taste in music.
An incredible song filled the car from four hidden speakers. '"Heaven",' Ewan told me, breezy but proud. 'Talking Heads. David Byrne's a genius.' I just nodded, still taking it all in.
Spooks
Mr Blue Sky – Electric Light Orchestra (1977)
Feeling good, Jason lays down on his bed and listens to 'Mr Blue Sky' five or six times in a row.
Souvenirs


Hungry Like The Wolf – Duran Duran (1982)
One Step Beyond – Madness (1979)
One In Ten – UB40 (1981)
Jason is away with his dad on a business trip. Going around town he hears music: Madness in a cafetaria, UB40 in the hotel at night.
Some girls share the earphones of a Sony Walkman and sing 'Hungry Like A Wolf'. The Walkman was first produced in 1979 in Japan.
Maggot
The Lion Sleeps Tonight – Tight fit (1982)
Some girls are singing 'The Lion Sleeps Tonight' in the back of the bus. This is originally a South African song, first recorded in 1939 but probably much older. The version you couldn't not have heard in 1982 in England or in the Netherlands was the version of Tight Fit. It reached no.1 in both countries even though it was recorded with session singers and not the models playbacking the song Boney M-style.
Knife Grinder
Words (Between The Lines Of Age) – Neil Young 1972)
Jason watches Top Of The Pops and listens to a cassette tape Julia has made for him from Ewan's LP's. The first song is Words (Between The Lines Of Age). "Neil Young sings like a barn but his music's brill."
Goose Fair
Oliver's Army – Elvis Costello & The Attractions (1979)
Ghost Town – Specials (1981)
Waterloo – Abba (1974)
Get Off Of My Cloud – Flying Pickets (1982)
The Goose Fair is in town, and walking around the fairground Jason picks up music from different directions. He especially likes that ace song 'Olive's Salami' by Elvis Costello. Another song he notices goes 'Hey! (HEY!) You! (YOU!) Get Off Of My Cloud!', coming from the Flying Teacups. It doesn't say in the book wich version of the song is being played (the original is of course Rolling Stones, 1967) but I like to think it's the a-capella version by Flying Pickets from 1982.
Disco
The grand finale of the book. Jason, who was not really a loser, but far from popular has suddenly earned the respect of his class mates (No spoiler – I won't reveal here why). This happened just in time, because at the end of the year there's the Black Swan Green Grand Christmas Village Hall Disco!
This already long post continues with the Black Swan Green Disco Party!
If you're from my generation, this song will probably bring up some memories.
It'll be my birthday next week so when Leeswammes announced she was hosting a literary giveaway blog hop, I figured that would be a nice opportunity to share a book of my all-time favourite author: David Mitchell. And which novel would be more appropriate for a forty-something birthday than Black Swan Green? You're only turning 41 once. ;)
Do not set foot in my office. That's dad's rule. But the phone'd rung twenty-five times. Normal people give up after ten or eleven, unless it's a matter of life and death. Don't they? Dad's got an answering machine like James Garner's in The Rockford Files with big reels of tape. But he's stopped leaving it switched on recently. Thirty rings, the phone got to. Julia couldn't hear it up in her converted attic 'cause 'Don't You Want Me?' by Human League was thumping out dead loud. Forty rings. Mum couldn't hear 'cause the washing machine was on berserk cycle and she was hoovering the living room. Fifty rings. That's just not normal. S'pose Dad'd been mangled by a juggernaut on the M5 and the police only had this office number 'cause all his other ID'd got incinerated? We could lose our final chance to see our charred father in the terminal ward.
[Black Swan Green, p.1]
Black Swan Green is Mitchell's fourth novel and can be considered a semi-autobiographical 'coming of age story'. The book's thirteen chapters each represent one month—from January 1982 through January 1983—in the life of 13-year-old Worcestershire boy Jason Taylor.* The story is written from his perspective and contains teen speech and popular-culture references from early-1980s England.
Although the novel was published in 2006, the first chapter, January Man, appeared as a short story in Granta 2003 Best of Young British Writers. At a reading I attended Mitchell confessed he had not felt ready to write (t)his story, that is so close to home, before.
Needless to say that Black Swan Green is a nostalgic trip. Not everything is familiar to me as a Dutch person (like the Rockford Files from the first paragraph), but it's a feast of recognition anyway. All the 1982 hits passing by are a party treat in itself! Mr Gnoe has been busying himself with tracking down the songs in this novel (as 'children' of the eighties we just love lists ;) Through this he found out that what seems like random stage setting at first actually gives the story depth. Jason assumes for example that his elder sister Julia is having 'a ball' now that she's old enough to leave home. But from the songs Jason says she's playing — we, who have been there and know the lyrics by heart ;) — understand Julia is having her own troubles.
I definitely need to reread this book! Now how about you? Would you like to get to know Jason Tyler? Don't you want to discover which characters from Mitchell's universe reappear in this story?? Here's your chance! I have a brand new copy of Black Swan Green to give away. Just leave a comment and tell me what is your favourite 80's song. But you can only participate if you're 35+.
LOL Just kidding!!! Open to all ages of course — and worldwide. Make sure I know how to contact you! If I have no way of contacting you, you can't win.
[* For those of you too lazy to do the maths, in 1982 I was just a year younger: 12.]
* Stay tuned for your very own Black Swan Green Disco Party! *
THIS GIVEAWAY IS NOW CLOSED. A WINNER WILL BE SELECTED SHORTLY.
This giveaway ends on February 23rd, 23:59 GMT+1 (=Amsterdam/Berlin time zone). A winner will be randomly selected at the end of the week.
Now go and have a look at all the other fabulous books that you can win!
(Note: the Literary Blog Hop has ended.)

The Sunday Salon is a virtual gathering of booklovers on the web, blogging about bookish things of the past week, visiting each others weblogs, and oh — reading books of course ;)
Yup, it's that time of year again: here's my 2010 books wrap-up!
I've read 29 books in total, which is six less than last year and approximately brings me back to the level of 2008.
I've made a photo of some (not all!), of the books I particularly liked!
Two of the books read this year were comics, five graphic novels, meaning 22 were either novels, novella's or collections of short stories.
It took me a while to decide on my favourite read of the year. There were two candidates but I finally figured it out. So… let's hear the drumroll!
Best Book of 2010
The Very Best Book I read in 2010 is The Wasted Vigil, by Nadeem Aslam. It's absolutely gorgeous and I hate myself for not picking it up earlier, since I've had in on the shelf from the moment it came out in 2008. I had equally loved Maps for Lost Lovers when I read it so Aslam now deserves to be listed among my (few) favourite authors! That's a spot right along David Mitchell, Barbara Gowdy and Haruki Murakami: novelists of whom I've read, or will read, each and every book. So I'm waiting for Aslam's 1993 début to arrive in my mailbox: Season of the Rainbirds. Don't you just love that title? ;)
Second Best Book of 2010
Close upon the heels of The wasted Vigil is (not surprisingly) The Thousand Autumns of Jacob de Zoet, the latest novel by my all-time favourite David Mitchell. It was a real tiebreak but I figured I was probably a teeny weeny bit unfairly favoured to Mitchell just because I love his work so much and had been looking forward to his new book since Black Swan Green, in 2006. Then again, that might speak in favour of 'Jacob de Zoet' because novels eagerly anticipated often disappoint.
List of books I read in 2010
For those of you who are curious, or just plain addicted to lists (like me), here's the complete pile of books I read in 2010. The ones that particularly stand out looking back on my reading adventures, I've given a bold title.
Trespass, Valerie Martin (2007)
The Best of Mutts, Patrick McDonnell (2004)
The Housekeeper and the Professor (Hakase no aishi ta sūshiki 博士の愛した数式, translated by Stephen Snyder), Yoko Ogawa (2003/2008)
De avonden (1) (The Evenings), Gerard Reve; Dick Matena (1947/2004)
The Rapture, Liz Jensen (2009)
In the Shadow of No Towers, Art Spiegelman (2004)
Careless in Red, Elizabeth George (2008)
I Am a Cat III (Wagahai wa neko de aru 吾輩は猫である, translated by Aiko Ito; Graeme Wilson), Natsume Sōseki (1907)
Een stoomfluit midden in de nacht (Yonaka no kiteki ni tsuite / 'A Steam Whistle in the Night', translated by Jaques van Westerhoven), Haruki Murakami (2003 (2006))
Het Hoofdkussenboek van Sei Shōnagon (Makura no Sōshi 枕草子 / The Pillow Book, translated by Paul Heijman), Sei Shōnagon (1002/1986)
Blind Willow, Sleeping Woman (Mekurayanagi to, nemuru onna, translated by Philip Gabriel; Jay Rubin), Haruki Murakami (2005)
Her Fearful Symmetry, Audrey Niffenegger (2009)
The Thousand Autumns of Jacob de Zoet, David Mitchell (2010)
Silence (Chinmoku 沈黙 , translated by William Johnston (?)), Shusaku Endo (1966)
The Sea, The Sea, Iris Murdoch (1978)
Affinity, Sarah Waters (1999)
The Poisonwood Bible, Barbara Kingsolver (1998)
The Catcher in the Rye, J.D. Salinger (1951)
Persepolis (translated byMattias Ripa), Marjane Satrapi (2003)
Persepolis 2 (translated by Blake Ferris), Marjane Satrapi (2004)
Remainder, Tom McCarthy (2007)
Mutts: Dog-eared, Patrick McDonnell (2004)
Het volgende verhaal (The Following Story), Cees Nooteboom (1991)
Isabelle Avondrood: Isabelle en het beest (Adèle et le bête, translated by René van de Weijer (?)), Jacques Tardi (1976)
Isabelle Avondrood: Allemaal monsters! (Tous des monstres, translated by René van de Weijer), Jacques Tardi (1994)
Soulless, Gail Carriger (2009)
Het Gouden Paviljoen (Kinkakuji, translated by C. Ouwehand), Yukio Mishima (1966)
The Wasted Vigil, Nadeem Aslam (2008)
The Christmas Quilt, Thomas J. Davis (2000)
Which of these books have you read? Did you like them?
There are several classics in the list, including Japanese. Graphic novels and comics were a new adventure in 2010; although I tried my first during the October 2009 read-a-thon, I read many more this year — upgrading my level from Beginner to Intermediate in the Graphic Novel Challenge.
Other genres outside my usual reading nook: Apocalyptic (The Rapture), GLBT (Affinity), paranormal romance (urban fantasy) / ghost stories (Soulless, Her Fearful Symmetry).
All of these I particularly enjoyed!
More statistics
Original language

Read in translation or the original language?

Gender author

Century of publication

Except for a challenge wrap-up post, that's about it for 2010. Book-wise I mean: I'll need to work on my list of movies next! How are you doing evaluating last year?
The Sunday Salon is a virtual gathering of booklovers on the web, where they blog about bookish things of the past week, visit each others weblogs, oh — and read ;)
Yay, I finished reading my first book! And although I really didn't expect it (and got a little annoyed by the obviously erudite blah blah of the author at first), I absolutely loved it!
I'm talking about The Following Story by the Dutch author Cees Nooteboom, which I (dôh) read in my native language: Het volgende verhaal. I probably would have never read it if it hadn't been recommended by my all-time favourite author David Mitchell. The story goes that while he was in Holland researching The Thousand Autumns of Jacob de Zoet on a writer's fellowship, he picked up Nooteboom's novella while he took cover in Waterstones' bookstore during an awful downpour — and he couldn't stop reading. Nooteboom is being acknowledged in 'Jacob de Zoet', so I guess they met afterwards.
I almost bought myself a second hand copy of The Following Story, but discovered — just in time! — that I already owned it! That's what happens sometimes with the free publications of National Book Week… So I might have never picked up this book if it hadn't been for Mitchell. Worse: it could have ended up in a Boekgrrls book swap unread! But just now I recommended it for the new Boekgrrls reading schedule… Let's hope it'll be picked!
I plan to write a short review after the readathon has ended. But one thing I can tell you already: this book has made me want to visit Lisbon! How appropriate, since the hour 8 mini-challenge on The Adventures of an Intrepid Reader is about Arm Chair Travelling!
Now I'm really curious to hear what tanabata of In Spring it is the Dawn thinks of The Following Story!
Also, I finally got around to making a donation so that those generous people providing prizes for the readathon are able to send it to the lucky winners. Let's return some love to all those book bloggers behind the scenes of the 24 Hour Read-a-Thon!
Shake Your Pom-Pom Cheer: "Flip that cover, turn your page, we're reading for the read-a-thon!"
Status report
Time period: 16.30 – 21.45
Currently reading: Gotta decide!
Total of time read: 4 hrs 27 mins & I lost track of blogging / cheering / tweeting time ;)
Total amount of pages read: 93 pages
Books finished: 1 book (The Following Story in Dutch = Het volgende verhaal, by Cees Nooteboom)
Mini-challenges participated in: 5 (Since last update: Show me the books, Arm Chair Travelling, Shake Your Pom-Pom!)
I'm almost halfway The Following Story and really liking it. Right before I stopped for this 1st status update I stumbled unto something that inspired David Mitchell to use in his latest novel, The Thousand Autumns of Jacob de Zoet! Tomorrow my favourite author is being interviewed about his book and research of Japan in the Sieboldhuis, but I won't be attending because of the readathon :\
I haven't read for all of the two and a half hours since the readathon started: I had to take a break to make cream cheese icing for my carrot cake — which is delicious by the way. I've found the perfect recipe! Slice anyone? :)
Mini Challenge: Back in the Day Childrens Books
Miss Wisabus mini-challenge 'Back in the Day Childrens Books' asks after favourite books from when we were young. Ha! I've already posted about that a while ago! I absolutely loved The Incredible Journey by Sheila Burnford, a thrilling story for an animal addict lover like myself! :)
This year our first niece and nephew turned 10, just the age I had been waiting for! I gave this childhood treasure as a present to them both (which is only available second hand these days). One of them even called to tell us how great it was!
Status report
24 Hour Read-a-thonTime period: 14:00 – 16.30
Currently reading: Het volgende verhaal (The Following Story) by Cees Nooteboom
Total of time read: 1 hrs 22 mins
Total amount of pages read: 42 pages
Books finished: 0 books
Mini-challenges participated in: 2 (Back in the Day Childrens Books, Indie Books)
These are the books I'll be picking from next Saturday, when I'm participating in the fall 24 Hour Read-a-thon (starting at 14:00 local time).
As you may notice it is an a-typical pile in that they're mainly Dutch titles! The bulk of my yearly reads is in English but I decided to make it easy for myself since I haven't been reading much lately and I may be easily distracted the coming weekend as well. Juno, one of my kittehs, is very ill and last Sunday we didn't even think she'd make it till readathon weekend. But this tough old gal is still fighting to get better! So instead of her keeping me company in my reading chair and bed (like previous RaTs), I might go sit with her on a pillow in a corner of the room. Less comfy, but darn well cosy and I'd be so much enjoying her presence! Of course if worse comes to worst I might drop out of the challenge to read for 24 hours. But let's not think about that yet!
Now, which books are you looking at in that picture (clockwise)?
Dromen van China (The China Lover), Ian Buruma
Nocturnes, Kazuo Ishiguro (short stories)
Het volgende verhaal (The Following Story), Cees Nooteboom (novella)
Isabelle en het monster and Allemaal monsters! (Adèle and the Beast / Adèle et le bête & Monsters All! / Tous des monstres!) from the series Les Avontures Extraordinaires d'Adèle Blanc-Sec, Jacques Tardi (graphic novels)
Sneeuwlandschap / Snow Country (雪国, Yukiguni), Yasunari Kawabata
Het hoofdkussenboek van Sei Shōnagon (The Pillow Book), Sei Shōnagon (short autobiographical entries)
Modelvliegen ('Model Flying'), Marcel Möring (audiobook)
I feel like starting these books RIGHT NOW — all at the same time! LOL But I guess I'm most excited about The Following Story because it was recommended by David Mitchell and I will be buddy reading it with tanabata from In Spring it is the Dawn. That'll be so much fun! It's a story about Herman Mussert (a former teacher of Latin and Greek), who falls asleep in Amsterdam one evening only to wake up in a hotel room in Lisbon with the fear that he is dead.
I'm also looking forward to The China Lover, of which The Independent writes:
Reading Ian Buruma's novel is like your first visit to a sushi shop with a knowledgeable friend. Everything is unfamiliar, some of it unpalatable, but your companion ensures you finish sated, delighted and feeling that bit more knowledgeable yourself. [..]


The story traces the real-life career of a Manchurian-born Japanese movie star, known variously as Ri Koran, Shirley Yamaguchi and Yoshiko Yamaguchi. Her three incarnations act before very different backdrops: the colonial experiment of "New Asia" in the 1930s and 1940s, the post-war MacArthur administration, culminating in the student protests of 1960; and the armed resistance of the Japanese Red Army in Palestine in the 1970s.

But Yamaguchi merely guest-stars in her own biopic, for each section is narrated by a different man: a China-loving mentor, a restless American expat, and a pornographer-turned-terrorist.
This year's graphic novels are from Tardi's series about Les Aventures extraordinaires d'Adèle Blanc-Sec. I'll be rereading these because part of the adventures take place in Paris (France) and Mr Gnoe and I have been photographing the very same places when we were there a month ago. Our plan is to make a thematic Google map! Having graphic novels at hand for a change of palate is one of the great tips I got when I first joined the readathon. Although I was completely wrong in thinking that reading comics takes less time… It rather doubles it: reading the story and looking at the pictures!
Something special about this year's readathon is that I actually know 2 other Dutch participants: Leeswammes and JannyAn. I hope this will make me feel less lonely in the dark hours of the night, when it's still daytime at the other side of the globe. Although I do not plan to go completely without sleep, because I tend to get depressed if I do so ;) These grrls even live in the same state as I do (Utrecht province), so maybe next year we'll be holding a pyjama party during the readathon?! ;)
May has almost ended and I have read just 1 book this month (next to the The Pillow Book read-along, that is). But it was FABULOUS! I've been reading the long expected new novel by David Mitchell: The Thousand Autumns of Jacob de Zoet —
I already told you a little about it in a Sunday Salon earlier this month and you can find a quote in my post about new bento goodies. I'm working on a review but it's not the only blogpost that needs to be written and I don't seem to have enough time on my hands. It's #3 on my todo list: first I need to focus on a buddy-review of Murakami's Blind Willow, Sleeping Woman with Elsje and next is somethingIcan'ttalkaboutyet ;)
Things I'm looking forward to this week
On Tuesday a new Japanese Literature Challenge is setting of! I've been looking forward to it very much since I finished the 3rd edition in January :) Er.. I am a bit embarrassed to admit I still haven't written 2 of my reviews, nor a wrap-up post :\
I hope to finish Sei Shōnagon's The Pillow Book during those 6 months of JLC4 (150 of 342 pages left) and I also plan to read the next 5 books:
Silence by Shusaku Endo (Japanese Book Group Read for June 28th) – 306 pages
The Makioka Sisters by Junichiro Tanizaki (JLit Read-along from July – September) – 530 pages of small print
Snow Country by Yasunari Kawabata (a gift of velvet) – 142 pages
Hear the Wind Sing by Haruki Murakami – 130 pages
Pinball, 1973 by Haruki Murakami (acquired this week through a bookswap with tanabata from In Spring It Is The Dawn, one of my favourite weblogs) – 179 pages
This means I need to read a book a month (amounting to 1437 pages in total)… Gotta speed up!
ETA: the challenge will run from June 1st – January 30th 2011 so that gives me 2 months extra ;)
If you'd like to join the challenge as well (you actually only need to read one book by a Japanese author!) I can recommend Be With You (Takuji Ichikawa), one of my 2 favourite reads of 2009: The Old Capital (Yasunari Kawabata), The Housekeeper and the Professor (Yoko Ogawa) and any book by Haruki Murakami or Kazuo Ishiguro.
The other MAJOR EVENT I'm looking forward to is a trip to Teylers Museum in Haarlem next Saturday, where I'll be listening to David Mitchell talking about his inspiration for Dr. Marinus in The Thousand Autumns of Jacob de Zoet.
Of course I'll also have my copy signed, together with our program guide of the opera Wake for which Mitchell wrote the libretto. I hope I won't be tongue-tied this time… As a non-smoker I need to ask him not to draw a joint — he did that twice before when we got our books signed LOL.
The Pillow Book
Arrived at entry: 85/86
Entries read since last time: 25
Edition: 1986 Dutch translation of Ivan Morris' Penguin edition: Het hoofdkussenboek van Sei Shōnagon (transl. from English by Paul Heijman)
I'm enjoying Sei Shōnagon's book more than before. Although I'm really more of a plot-reader I like to learn about the culture & court life of 10th century Japan. I was surprised to find out that Shōnagon was not just writing her journal out of her own initiative but that 'people' were expecting her to write everything down and not leave anything out… (entry #67). Also, there are more ladies called Shōnagon among the courtesans: Gen Shōnagon and Shin Shōnagon. Does the name mean something special relating to court? Do the women get a new name (pseudonym) once they enter the Empress's circle? I hope to find out someway! Maybe you can tell me?
The Sunday Salon is a virtual gathering of booklovers on the web, where they blog about bookish things of the past week, visit each others weblogs, oh — and read ;)
She notices the ladybird on his thumb. 'Tentô-mushi.'
In his eagerness to comprehend, he mishears: 'O-ben-tô-mushi?'
'O-ben-tô-mushi is "luncheon-box bug".' She smiles.'This,' she indicates the ladybird, 'is O-ten-tô-mushi.'
'Tentô-mushi,' he says, and she nods with a schoolmistress's approval.

[David Mitchell: The Thousand Autumns of Jacob de Zoet, p.121]
In my post about bento #101 I mentioned I'll be celebrating my 3rd year as a bento-grrl next month, on June 16th to be precise. In the past years I haven't really indulged in buying many (and more) bento boxes. I purchased four for myself in those early days — not counting Mr Gnoe's box — and one of them broke on the way back from last year's hanami picnic.
You could say I own a box a year ;) I've behaved so well all this time!
Well, up until now. I figured I deserved something new for my 3-year anniversary :) Here's where the discount offer I had received from Bento & Co for participating in the 2010 Spring Bento Contest on JustBento came in handy… Of course I had a hard time choosing which box to buy — and ended up doubling my bento stock in one click. Many thanks Maki & Thomas! ;)
I also couldn't resist the cute hashi (chopsticks) in kimono fabric matching my blossom bento. I feel happy now. And hope to have satisfied my lunchbox hunger for the next 3 years ;)