You are currently browsing the tag archive for the 'statistiek' tag.
The Sunday Salon is a virtual gathering of booklovers on the web, blogging about bookish things, visiting participating weblogs, and oh — reading books of course ;)
For 2015 I chose to set a goal on Goodreads. 2013-2014 had been slow book-wise, reading no more than 16 resp. 18 volumes. I was too embarrassed frustrated to even post the lists! ;) That's why a target of 20 seemed a bit of a challenge for 2015, but doable.
<insert drumroll please…> YAY! I surpassed my goal by 9!!! Making a total of 29 (listed further on), whisping me back to the level of 2012. #happydance
For 2016 I won't be aiming at a certain amount of books. Rather I'd be reinforcing the habit of reading more regularly. Once I've figured out the details I'll share them.
BOTNS Book Bingo
What helped keep me motivated the past year was the Books on the Nightstand Summer Book Bingo. I generated a card and though I didn't really pick my books according to the squares, it was fun checking where a read would fit and crossing it of. My friend Muizz was also playing, which made it even more fun. You should've heard me scream "BINGO!" once I got a full row completed! *grin*
Books read in 2015
Listed from most recently to early 2015:
The Mutts Winter Diaries ~ Patrick McDonnell
Terug naar Oegstgeest ~ Jan Wolkers
The Fire Kimono (Sano Ichiro, #13) ~ Laura Joh Rowland
De fietser van Tsjernobyl / El ciclista de Chernóbil ~ Javier Sebastián
History of a Pleasure Seeker ~ Richard Mason
Hug Time ~ Patrick McDonnell
Gevallen God / A God in Ruins ~ Kate Atkinson
Legend of a Suicide ~ David Vann
Potifars vrouw ~ Sophie Zijlstra
The Children Act ~ Ian McEwan
The Life-Changing Magic of Tidying Up ~ Marie Kondō
Globejotting: How to Write Extraordinary Travel Journals (and Still Have Time to Enjoy Your Trip!) ~ Dave Fox
The Buried Giant ~ Kazuo Ishiguro
De kat / 猫の客 / Neko no kyaku ~ Takashi Hiraide
Wachten op woensdag (Frieda Klein #3) / Waiting for Wednesday ~ Nicci French
Just One Evil Act (Inspector Lynley, #18) ~ Elizabeth George
Het boek van wonderlijke nieuwe dingen / The Book of Strange New Things ~ Michel Faber
Handleiding voor poetsvrouwen / A Manual for Cleaning Women: Selected Stories ~ Lucia Berlin
Geen gewoon Indisch meisje ~ Marion Bloem
Fox Evil ~ Minette Walters
Believing the Lie (Inspector Lynley, #17) ~ Elizabeth George
Housekeeping ~ Marilynne Robinson (audiobook)
Ik kom terug ~ Adriaan van Dis
Oorlog en terpentijn ~ Stefan Hertmans
Timothy's Book: Notes of an English Country Tortoise ~ Verlyn Klinkenborg
The Rise & Fall of Great Powers ~ Tom Rachman
Maandagskinderen / Synir Duftsins ~ Arnaldur Indriðason
The Strange Library ~ Haruki Murakami
How to Be Both ~ Ali Smith (audiobook)
Some new or recent, some classics, some bulky — others slim, many Anglo authors, less Dutch and a few other nationalities, hardcore literature and non-fiction next to easier stuff like mysteries/thrillers. Being easy on myself I read English language books more often in Dutch translation than usual.
Have you read any of these books?
The Year of the Daves (aka Favourite Reads of 2015)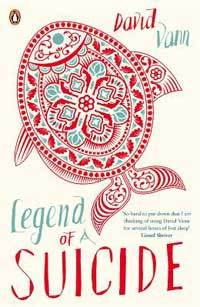 Looking back, the novel that left most of an impression is Legend of a Suicide by David Vann. It had been waiting patiently on my shelf for years — and didn't disappoint! I don't feel I've read anything like this collection before: gruesome, dreary, but touching at the same time. A rough diamant.
The most fun I had with Globejotting, a manual for travel journal keeping. It has helped me a lot and I can't wait to start over, doing all exercises.
Depending on time and inspiration I'll write a follow-up about some other highlights of 2015. For now: curl up on the couch and have a cosy Sunday!
The Sunday Salon is a virtual gathering of booklovers on the web, blogging about bookish things of the past week, visiting each others weblogs, and oh — reading books of course ;)
I've called my yearly overview of books "The Pile of Books I Kicked Over.." once before, but this time the title fits even better. In 2011 I devoured a total of 38 books, which is nine more than I read in 2010!
Now how is that for a first post and Sunday Salon in 2012?
Of course I pledged to tackle eleven more books this year for the Books on the Nightstand +11 in '11 Challenge, which would have brought my total up to the nice round number of 40. Well, there you have it: my first #FAIL. ;)
Looking over my list, it is not easy to pick an instant favourite. Although I liked most of the books I read, there aren't many outstanding works worth mentioning. Although I gave three of them the max of 5 stars in Goodreads, concerning one I have a hard time remembering about what it was exactly…
Interlude: here I corrected myself thanks to the marvellous, but strict Dr Kermode who will not allow the word order of "what it was about." A grammar lesson learnt in 2011. ;)
So, did I accept quantity over quality? No Ma'm, I did not. I could've easily picked two short novellas from my shelf when the end of 2011 was nigh. Like Murakami's Sleep, for instance, T.S. Elliot's Cats or Joost Zwagerman's Duel. But just as I promised when I joined the BOTNS challenge, I did not bend my reading preferences according to book size.
Now quit digressing! Here are the books I read in 2011 in reversed chronological order. Other thoughts and statistics will follow later on.
Books read in 2011
Kandy: een terugtocht ('Kandy: a retreat'), F. Springer
Vernon God Little, DBC Pierre
XY, Sandro Veronesi (Boekgrrls December read)
De duif en De erfenis van Maître Mussard, Patrick Süskind
Bandoeng-Bandung, F.Springer
Van het westelijk front geen nieuws (Im Westen nichts Neues / All Quiet on the Western Front), E.M. Remarque (November Boekgrrls read)
Season of the Rainbirds, Nadeem Aslam
Tinkers, Paul Harding
1q84 (Boek een, twee & drie), Haruki Murakami (JLit Book Group November/December)
Modelvliegen, Marcel Möring
Thousand Cranes, Yasunari Kawabata (JLit Book Group August)
The Help, Kathryn Stockett (Boekgrrls August read)
Underground, Haruki Murakami
Dagboek van een Geisha (Memoirs of a Geisha), Arthur Golden
Witte oleander (White Oleander), Janet Fitch (bx copy)
Before I Go to Sleep, S.J. Watson
The Woman in the Dunes, Kobo Abe (JLit Book Group June)
Zeitoun, Dave Eggers (Boekgrrls June read; nonfiction)
Verraad, verleiding en verzoening: de rol van eten in speelfilms, Louise O. Fresco & Helen Westerik (nonfiction)
Travels in the Scriptorium, Paul Auster
The Terrible Privacy of Maxwell Sim, Jonathan Coe (Boekgrrls May read)
Bento Box in the Heartland: My Japanese Girlhood in Whitebread America (a Food Memoir), Linda Furiya (nonfiction)
Crime School, Carol O'Connell
All She Was Worth, Miyuki Miyabe (Bookcrossing book ring)
Vegan Family Meals: Real Food for Everyone, Ann Gentry (cookbook; Netgalley e-book)
2666, Roberto Bolaño (readalong)
La Dolce Vegan! Vegan Livin' Made Easy, Sarah Kramer (cookbook)
In the Miso Soup, Ryu Murakami (JLit Book Group February)
Pinball, 1973, Haruki Murakami
Ik haal je op, ik neem je mee (Ti prendo e ti porto via / I'll Steal You Away), Niccolò Ammaniti (Boekgrrls February read)
Geketende democratie: Japan achter de schermen ('Democracy in chains: behind the scenes of Japan'), Hans van der Lugt (nonfiction)
Sneeuwland (Yukiguni / Snowland), Yasunari Kawabata
Blacklands, Belinda Bauer (Boekgrrls Januari read)
Poelie de Verschrikkelijke ('Poelie the Terrible'), Frans Pointl
Hear the Wind Sing, Haruki Murakami
Kalme chaos (Caos Calmo), Sandro Veronesi (Boekgrrls December 2010 read)
Quite the list eh? And I also reread the beautiful short story Het geluid van een stoomfluit midden in de nacht (Yonaka no kiteki ni tsuite / 'A Steam Whistle in the Middle of the Night') by Haruki Murakami.

Thoughts
The book(s) I enjoyed the most this year was Haruki Murakami's 1q84 trilogy. Readers from the Japanese and English speaking hemispheres may wonder why I keep using a lower case 'q' (kyu) when referring to the author's latest work, since it's originally written as 1Q84. Well, the Dutch translators decided to use a small 'q', resembling the number '9' much better!
Volumes 1,2 and 3 together are over 1350 pages thick but I read all three of them in just two weeks. Enough proof of how much I liked it. :) It's a typical late Murakami of which story you should know nothing beforehand.
Reading 1q84 I regularly had to think back to a work of non-fiction I read earlier this year: Underground, about the Tokyo gas attack. It's amazing how delicate Murakami treats the subject, showing more about himself as a person than I ever saw, heard or read in interviews or previous books.
A further special mention goes to another Japanese novel: The Woman in the Dunes by Kobo Abe. A strange story calling up an eerie atmosphere; bordering on a grim fairy tale. The images easily reappear before my mind's eye so I have no problems recalling what this classic is about. Oops, preposition at the end of my sentence again, apologies to Dr Kermode! ;)
So it's all Japanese favourites this year. Figures. ;) One of my intentions for 2012 is to read a little more OUT of my comfort zone. Another post will out-lay the rest of my reading plans for this year. *whispers* I haven't really figured them out yet myself!
Luckily I also very much liked some non-JLit books like Sandro Veronesi's XY (thought-provoking), Remarque's All Quiet on the Western Front (compelling), Belinda Bauer's Blacklands (thrilling) and Dave Eggers' Zeitoun (shocking).
The biggest bone to tackle this year was 2666 BY FAR. It's supposed to be a contemporary classic and comes highly recommended by one of my favourite authors, Kazuo Ishiguro, but it could not charm me. I struggled all the way through to the end and I'm proud to say that I was at least able to finish it! 898 pages of small characters, in English. Gah.
2011 Book charts
As always I'd love to share some pie charts. About the gender of authors read, the ratio of fiction to non-fiction (to faction, which is null ;), where I got my copies from, peer-pressure (!) and the language area from which authors originate.
Gender of authors read
Hm, I'm not completely satisfied with the ratio of female authors to male among the books I read this year.. Needless to say it should be more of a fifty-fifty situation!
Fiction to non-fiction
The fiction / non-fiction chart doesn't show much difference from previous years: I obviously prefer to read fiction — especially now that I'm having 'concentration issues'. O_o
The Pile
I haven't looked at the origin of my books before, but as I seem to have read a lot of books being passed on by other Boekgrrls, I thought I'd analyse that data this year. ;)
Peer-pressure
Oh how I love my peer-pressure. Buddyreads, group reads, readalongs & readathons, challenges, book rings… You name it — been there, seen it, done that. ;) Of course I should also have put in this graph the books I read without any relation to others… Next time, I promise.
Language areas
Now I did not read all of these books in their original language, it's just a vague chart dividing my books into language areas. Most books that are written in English I read in their original language. The same goes for Dutch books. :) The rest I've read in translation to either Dutch or English. Maybe next year I'll try my hand at some German..?
Note: of course Chilean and Pakistani are nationalities, not languages, but you get the idea.
So, did you surpass and/or surprise yourself with the books you've read?
Any favourites you'd like to share?
Did you read any of mine?
Yup, it's that time of year again: here's my 2010 books wrap-up!
I've read 29 books in total, which is six less than last year and approximately brings me back to the level of 2008.
I've made a photo of some (not all!), of the books I particularly liked!
Two of the books read this year were comics, five graphic novels, meaning 22 were either novels, novella's or collections of short stories.
It took me a while to decide on my favourite read of the year. There were two candidates but I finally figured it out. So… let's hear the drumroll!
Best Book of 2010
The Very Best Book I read in 2010 is The Wasted Vigil, by Nadeem Aslam. It's absolutely gorgeous and I hate myself for not picking it up earlier, since I've had in on the shelf from the moment it came out in 2008. I had equally loved Maps for Lost Lovers when I read it so Aslam now deserves to be listed among my (few) favourite authors! That's a spot right along David Mitchell, Barbara Gowdy and Haruki Murakami: novelists of whom I've read, or will read, each and every book. So I'm waiting for Aslam's 1993 début to arrive in my mailbox: Season of the Rainbirds. Don't you just love that title? ;)
Second Best Book of 2010
Close upon the heels of The wasted Vigil is (not surprisingly) The Thousand Autumns of Jacob de Zoet, the latest novel by my all-time favourite David Mitchell. It was a real tiebreak but I figured I was probably a teeny weeny bit unfairly favoured to Mitchell just because I love his work so much and had been looking forward to his new book since Black Swan Green, in 2006. Then again, that might speak in favour of 'Jacob de Zoet' because novels eagerly anticipated often disappoint.
List of books I read in 2010
For those of you who are curious, or just plain addicted to lists (like me), here's the complete pile of books I read in 2010. The ones that particularly stand out looking back on my reading adventures, I've given a bold title.
Trespass, Valerie Martin (2007)
The Best of Mutts, Patrick McDonnell (2004)
The Housekeeper and the Professor (Hakase no aishi ta sūshiki 博士の愛した数式, translated by Stephen Snyder), Yoko Ogawa (2003/2008)
De avonden (1) (The Evenings), Gerard Reve; Dick Matena (1947/2004)
The Rapture, Liz Jensen (2009)
In the Shadow of No Towers, Art Spiegelman (2004)
Careless in Red, Elizabeth George (2008)
I Am a Cat III (Wagahai wa neko de aru 吾輩は猫である, translated by Aiko Ito; Graeme Wilson), Natsume Sōseki (1907)
Een stoomfluit midden in de nacht (Yonaka no kiteki ni tsuite / 'A Steam Whistle in the Night', translated by Jaques van Westerhoven), Haruki Murakami (2003 (2006))
Het Hoofdkussenboek van Sei Shōnagon (Makura no Sōshi 枕草子 / The Pillow Book, translated by Paul Heijman), Sei Shōnagon (1002/1986)
Blind Willow, Sleeping Woman (Mekurayanagi to, nemuru onna, translated by Philip Gabriel; Jay Rubin), Haruki Murakami (2005)
Her Fearful Symmetry, Audrey Niffenegger (2009)
The Thousand Autumns of Jacob de Zoet, David Mitchell (2010)
Silence (Chinmoku 沈黙 , translated by William Johnston (?)), Shusaku Endo (1966)
The Sea, The Sea, Iris Murdoch (1978)
Affinity, Sarah Waters (1999)
The Poisonwood Bible, Barbara Kingsolver (1998)
The Catcher in the Rye, J.D. Salinger (1951)
Persepolis (translated byMattias Ripa), Marjane Satrapi (2003)
Persepolis 2 (translated by Blake Ferris), Marjane Satrapi (2004)
Remainder, Tom McCarthy (2007)
Mutts: Dog-eared, Patrick McDonnell (2004)
Het volgende verhaal (The Following Story), Cees Nooteboom (1991)
Isabelle Avondrood: Isabelle en het beest (Adèle et le bête, translated by René van de Weijer (?)), Jacques Tardi (1976)
Isabelle Avondrood: Allemaal monsters! (Tous des monstres, translated by René van de Weijer), Jacques Tardi (1994)
Soulless, Gail Carriger (2009)
Het Gouden Paviljoen (Kinkakuji, translated by C. Ouwehand), Yukio Mishima (1966)
The Wasted Vigil, Nadeem Aslam (2008)
The Christmas Quilt, Thomas J. Davis (2000)
Which of these books have you read? Did you like them?
There are several classics in the list, including Japanese. Graphic novels and comics were a new adventure in 2010; although I tried my first during the October 2009 read-a-thon, I read many more this year — upgrading my level from Beginner to Intermediate in the Graphic Novel Challenge.
Other genres outside my usual reading nook: Apocalyptic (The Rapture), GLBT (Affinity), paranormal romance (urban fantasy) / ghost stories (Soulless, Her Fearful Symmetry).
All of these I particularly enjoyed!
More statistics
Original language

Read in translation or the original language?

Gender author

Century of publication

Except for a challenge wrap-up post, that's about it for 2010. Book-wise I mean: I'll need to work on my list of movies next! How are you doing evaluating last year?
The Sunday Salon is a virtual gathering of booklovers on the web, where they blog about bookish things of the past week, visit each others weblogs, oh — and read ;)