You are currently browsing the category archive for the 'English posts' category.
Alas, Dewey's 24 hour readathon has ended. Even though my 'numbers' (which I'll add later) may not show it, things went very well this time! I rediscovered my love of reading; so much that I wish the event could continue for another day! Maybe it's a good thing my Lynley mysteries didn't arrive in time for the weekend — when I've finished my current book they'll probably be here to help me keep my mojo. Without the help of a RaT. And anyway, the community –YOU– will be still around for motivation!
End of the Event Meme
Which hour was most daunting for you?
None in particular: all of them due to the pull of social media and mini challenges. Of course I went to bed at three to sleep for a few hours.
Could you list a few high-interest books that you think could keep a Reader engaged for next year?
A sequel in a series you like and acknowledged page turners in a favourite genre.
Do you have any suggestions for how to improve the Read-a-thon next year?
Nope. It's perfect!
What do you think worked really well in this year's Read-a-thon?
The possibility to pick a medium of choice for updating; not just blogs AND the warm-up tip to use Storify to keep everything in one place! Here's my story.

How many books did you read?
Four (not all finished yet).
What were the names of the books you read?
Oorlog en terpentijn (finished)
Timothy's Book: Notes of an English Country Tortoise (finished, after three years on hold!)
Housekeeping – on audio
Ik kom terug
Handleiding voor poetsvrouwen
Which book did you enjoy most?
The book I'm currently reading: Ik kom terug. Loving it and I want to own a copy after I give it back to the friend who lend it to me.
Which did you enjoy least?
Maybe Housekeeping, just because audio isn't as intense as reading a book yourself. That I enjoyed this one least of all four does NOT mean I don't like it!
If you were a Cheerleader, do you have any advice for next year's Cheerleaders?
Be strict about the amount of time allotted to cheering… I found myself spending way too much time in cyberspace instead of in a story. Make a choice — and stick to it.
How likely are you to participate in the Read-a-thon again? What role would you be likely to take next time?
YESH! I can't wait! I'll sign up as reader-cheerleader again and hope to keep a better balance. ;)
A big THANK YOU to Mr Gnoe, my Instagram and blog followers, all readers, organisers, cheerleaders, challenge-hosts (and anyone I may forget) for making this event such a success. WOOT!
YESH! It's that time of year again: Dewey's 24 Hour Readathon is on. I've been looking forward to this weekend awfully much because I desperately want to get my reading mojo back. And the prospect of it actually made me pick up a book and read, read, read already in the past week. :) Let me show you my readathon stack.
I desperately hoped my order from Bookdepository would arrive in time because I'm dying to start a new Inspector Lynley mystery. But I just saw the parcel delivery van pass my home without stopping. :'( Not that I haven't enough to choose from… ;)
I'm currently reading the award-winning Oorlog en terpentijn by Stefan Hertmans, which I'll probably finish in one and a half hour. I know this because of the Readmore app I use to keep track of my reading. :) On audio I'm listening to Marilynne Robinson's Housekeeping.
My next read will either be Adriaan van Dis' Ik kom terug or Ishiguro's The Buried Giant, alternated by Lucia Berlin's collection of short stories Handleiding voor poetsvrouwen (A Manual for Cleaning Women), translated by my talented friend Maaike (and co's). The Best of Mutts comics and Timothy's Book will provide yet another change of palate.
The greens in the background are there for a reason: they'll provide healthy snacks. Homegrown radishes (did you know you can eat the leaves as well?), corn lettuce and baby spinach. I'll have to share though because Mr Gnoe is joining me in the readathon for the very first time! Yay, love having a buddy. :D
I don't plan on reading for the full stretch. I'm not feeling too well today and I never manage twenty-four hours anyway (remember, I've been up for half a day already!) Luckily staying at home, taking a rest and read is just what the doctor ordered. ;) I'm just cheating a little by starting a bit early… Local starting time is 2PM and since I'll be officially cheerleading that first hour I'm kicking-off reading at the nice round number of 1 o'clock. Shoot me if you don't approve. ;)
Wishing all participants a blast!!!
You can follow my updates during the event on Instagram via @gnoe!
Or see it all collected in one story on Storify.
What are you reading?
While the weather is turning rather nasty as if to mourn, the fall edition of Dewey's 24 hour readathon has ended. And I'm SO glad I participated! It remembered me of 'old times'… making me all warm and glowy inside. ;)
What I read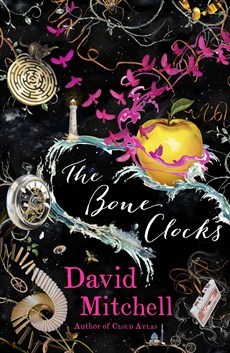 As planned I immersed myself in The Bone Clocks by David Mitchell and got some 20% down. Love it! I'm glad it's a tome and I still have the majority to go. :) I'm sorry I can't give you a short summary of this magical realist novel yet – I'll have to see where it's going first! The birthday party that broke up this RaT was of family I hadn't seen in a long time. Of course I was very eager to see and speak to everyone, but it didn't take long or I longed to be back in 'Mitchell-verse'.
During some housework I also listened to a short story on audio by Esther Verhoef, called Nouveau Riche. I hadn't read anything from her yet and I now don't think I will again. The account of expats in France reluctantly receiving friends from the past was largely predictable and not at all exciting. It was… just okay I guess.
The numbers
To help me keep track of time I used the Timelytics Time Log app on my phone. Handy!
Total of time read: 6:55
Of which the audiobook took: 0.55
This surprised me as it feels like I read for more than a scant seven hours. I could have gotten in another one at the end but I was hungry and got distracted by making lunch. Before I knew the readathon was over! :( But I'm not going to let that spoil my mood: it was fun and I haven't read this much in twenty-four hours for a long time!
Already planning next time!
In my start-up post I didn't know yet where I'd pop up in cyberspace. It happened to be on twitter (where I hadn't been for a long time either; it's becoming a theme! ;) Twitter is quick and dirty easy, which makes it perfect if you want to feel connected but spend not too much time at your computer or mobile device. And socializing, I realized, is something I really love about Dewey's readathon and missed some of the previous times I participated. A big thank you to Cautious' Katja B. (@eeyorenyk) whom made me aware of it (ánd was a faithful cheerleader).
Jotting down my plans for next time here so that I'll know where to find them in six months time.
I'll try to completely clear my schedule so I can devote the full 24 hours to the readathon.
I'll reserve some time for socializing — and to keep me to it I may even sign up as a cheerleader!
I'll return to pre-readathon planning:
think about food & snacks; prepare some meals in advance (including a lentil-, pasta – or couscous salad and possibly lasagne or casserole),
line up some audio books for when I can't read a physical copy and make an actual schedule for when to use these,
revive my 'readathon update post' template,
get some drafts set up.
Edited to add after listening to other participants' experiences:
read successive books from a (familiar) series – for example the Parasol Protectorate series by Gail Carriger (I'm up to #3 Blameless);
go read in a library for a while.
Last but never least

I really enjoyed seeing familiar faces names in my time-line – old times relived! My IRL readathon buddies were Mr Gnoe and da kittehs Nina and Kuki, one on each lap (from me and hubs that is). A fun fact is that Mr Gnoe and I are both reading the same book; he's got the paper -limited edition- copy and I have my Kobo e-book. Can you imagine anything more cosy? :D
I'd like to thank all cheerleaders, hosts and participants whom made this readathon a success. And I salute the memory of Dewey, without whom we never would've had this marvellous event. I wonder if it's a (perfect) coincidence that there was a cameo of Professor Dewey in The Bone Clocks today???
Wow, two blogposts in one week? Sure, why not! It will probably be even more because tomorrow I'm participating in the biannual 24 hour readathon. I'm playing by my own rules and adjusted the time element because my cousin is hosting a "Just sixty" birthday party and I don"t want to miss that (either)!
My plan
The official times for my region are 2PM Saturday – 2PM Sunday. As I have to leave for the party around 3:30 ánd need to get dressed for the occasion -you all watch Downton Abbey and know how it works, right?- that doesn't leave much room for reading. So I'll be brave and set my alarm clock at 7:30 PM to start RaT-ing early!
We'll get to the party venue by bus on which I hope to be able to do some unofficial cheerleading. If I don't get carsick that is… >.< Once home again I'll probably go to bed and get up indecently early next day.
Book(s)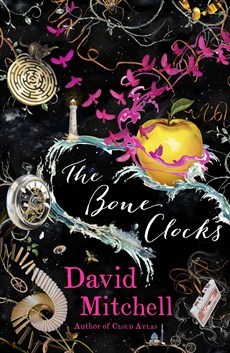 I plan on immersing myself in just the one book: The Bone Clocks, by David Mitchell. *happy dance* Mitchell is my favourite author and I've been looking forward to this novel SO much! I wonder which old acquaintances will I meet?
The book is 600+ pages and I want to finish it before a book club meetup on November 15th. That won't be an easy feat in my current reading pace. So I have started already and am currently on page 15. My progress can be followed on Goodreads and I may occasionally post here too.
In case I really need a change of palate I will be reading short stories from Haruki Murakami's The Elephant Vanishes. Can't wait to get comfy and read-read-read!
The rest
I probably won't be participating in (m)any mini challenges because I know they just distract me from reading. The same goes for blogging and spending time on social media. But you never know where you'll meet me in cyberspace during the RaT! Where can I find you?
Yesterday I had my first bento lunch in a long time. That makes me happy. :)
Meatless Monday Bihun Bento
Curious about the contents of this bento?
Right tier
Mihoen (bihun) goreng with faux chick'n leftovers from Soy, my local Chinese vegetarian restaurant, topped with fried courgette and parsley.
Left tier
Red Batavia lettuce, tomato, creamy borlotti-balsamic bean spread (recipe from Think! Eat! Act! A Sea Shepard's Chef Vegan Recipes by Raffaella Tolicetti), pickles, kalamata olives, and a spoonful of capers.
On the side
Rosemary crackers.
Where from?

I won the Sea Shepard's vegan cookbook I few months ago on Lisa's Project Vegan blog and the recipes I've tried so far are all thumbs up! I hope to spend a post on the book sometime soon so I can link it up to Trish's Cook It Up — but let's not get ahead of myself. I used local borlotti beans out of our organic CSA haul for the bean spread this past weekend. Other local and organic ingredients in this lunch are zucchini, lettuce, tomato and parsley.
 I hope I'll be presenting my next bento again soon… See you then?
This week I'm playing BoBRaT again: participating in the Bout of Books readathon. Unofficially, because I was too late to sign up. But I so desperately need some pressure to tackle the books on my Mt TBR that I'm just ignoring that fact. Don't need to win any prizes anyway, as long as I'll achieve my goal. Which is..?
Readathon Goal
I want to read every day this week for at least 30 minutes, preferably in one sitting. It can be anything: from the pile of magazine clippings and leaflets that's been bugging me to one of the three books I should be reading right now…
De kleurloze Tsukuru Tazaki en zijn pelgrimsjaren / The Colourless Tsukuru Tazaki and His Years of Pilgrimage. I've joined the August 12th – September 12th readalong of Master Murakami's most recent book, which is part of Dolce Bellezza's Japanese Literature Challenge #8
Rayuela: een hinkelspel / Hopscotch by Julio Cortázar. This notorious Latin American literary experiment of 500+ pages was picked by my IRL bookgroup to be read before September 7th. Oomph.
Op de vleugels van de draak ('On the dragon's wings') was chosen as one of two books to be read in August by the Boekgrrls, a Dutch mailing list and on-line book group. And though reading along is always voluntary, I was the one to nominate Lieve Joris' newest nonfiction. So I can't drop out now, can I?!
It's not that I don't WANT to read these books, I just can't get myself to do it :( Can you help?
Books & Kisses' BKReadAThon seamlessly follows up last weekend's 24 Hour Read-a-Thon, from Monday April 28th – Sunday May 4th. Though I will be mostly updating in my native language this week because it is a Dutch event, today's post is in English due to another announcement.
They say it takes three weeks to form a new habit. Kicking one is much more difficult, but 'da brains' are good in acquiring something new. Hell, then re-establishing a familiar routine in 21 days must be a piece of cake! Right?
BoB RaT

There once was… a me that could be defined as a reader. But for several years now I've been trying to crawl my way out of a reading slump. So I'm signing up to be a BoB RaT from May 12th to 18th, participating in the Bout of Books Read-a-Thon. You may think that gives me a week off between readathons, but NO: if I manage to keep up my pace during the interlude, the BoB readathon will work as a a way of anchoring. In total it'll be three weeks to kick in the 'new' habit! I *want* that happy ending.
My readathon goals will be generally the same as in the Books & Kisses RaT:
read every day of the week for at least 30 minutes;
finish the book I'm reading when the readathon starts;
provide for a change of palate to keep me motivated (i.e. alternate short works with longer);
[added] read from my real life folder of paper cuttings and such for 5 minutes each day;
make sure I'm well into a new book once the readathon ends;
(last but not least) HAVE FUN.
Of course there may be changes when May 12 comes around. Will keep you updated!
B&K Readathon
I wasn't particularly looking forward to today's book, Cats by T.S. Eliot, because I don't really like reading poetry – and maybe whimsical poems even less. So I was pleasantly surprised when I immediately felt sympathetic towards the first poem: The Naming of Cats (Hoe noem je een kat? in Dutch, ranslated by Gerrit Komrij). It's about cats needing no less than three names.
[..] But above and beyond there's still one name left over,
And that is the name that you never will guess;
The name that no human research can discover–
But THE CAT HIMSELF KNOWS, and will never confess.

—

[..] Maar inzonderheid is daar die naam nog, die ene,
En dat is de naam die je vindt voor geen goud;
De naam door geen mensenverstand bij te benen–
Die ALLEEN DE KAT ZELF KENT, en stug voor zich houdt.
That said, the first poem was also the best of them all (as far as I'm concerned). Of course there's no way of telling how close the translation is to the original, having to do with rhyme, rhythm, alliteration and wit.It is probably not for nothing that the 1939 original was translated to Dutch until 1985! Anyway, while the drawings by Edward Gorey are very much worth looking at, this genre is just really not something I enjoy spending time on. If I have to, I'd rather choose something by our very own Annie M.G. Schmidt.
Today's Summary
Current read
x
Pages read today
64
Books finished today
1: Cats: Kobus Kruls parmantige kattenboek (Old Possum's Book of Practical Cats)  ~ T.S. Eliot
Time read
0:41
Books read so far
Crossing to Safety ~ Wallace Stegner
Cats: Kobus Kruls parmantige kattenboek (Old Possum's Book of Practical Cats)  ~ T.S. Eliot
Total of pages read so far
432
Total of time read so far
4:46
So. The bed is made, a load of laundry is running and the dishes of dinner, snacks, breakfast and lunch can wait a while longer while I write up this second-and-last update for the April 2014 24 hour read-a-thon. Let me say first: I had such FUN! My go-with-the-flow attitude was just what I needed to make this readathon a success. I am very grateful to my reading buddy Kuki whom stayed with me (or rather on top of me) most of the time. She even tried to wake me up before the alarm to continue reading ;) Her being so faithful made me less sad about my former readathon buddy Juno isn't here any more.
The statistics…
I've been reading just one book and wasn't able to finish it in time: Crossing to Safety ~ Wallace Stegner (ebook)
Percentage of book read: 51%
Amount of time spent reading: 7 hours and 35 minutes
Amount of time spent socialising: 1 hour 30 minutes
Mini-challenges: just the kick-off and end of the event memes
Tools: the readathon spreadsheet that Jenn of Jenn's Bookshelves provided, Timelytics app on my phone
End of Event Meme
Which hour was most daunting for you?|
The first few… I was looking forward to it so much and then I something came up that made me miss out on the first six hours. So in fact I got an eighteen hour twentyfour readathon ;) Had to adapt a little and try not to be too disappointed. Also, when I went to bed at 1:30. I had planned on reading a while longer but my eyes fell shut even before my head hit the pillow.
Could you list a few high-interest books that you think could keep a Reader engaged for next year?
YES! I've only been reading Crossing to Safety and time flew! I can definitely recommend it to everyone.
Do you have any suggestions for how to improve the Read-a-thon next year?
Nope.
What do you think worked really well in this year's Read-a-thon?
My own attitude of going with the flow and just enjoying the event, taking part in the community stuff. I may not have made that concious decision if Andi hadn't mentioned it in one of her video blogs!
How many books did you read?
One.
What were the names of the books you read?
Crossing to Safety by Wallace Stegner (1987).
Which book did you enjoy most?
Crossing to Safety obviously ;)
Which did you enjoy least?
–
If you were a Cheerleader, do you have any advice for next year's Cheerleaders?
–
How likely are you to participate in the Read-a-thon again? What role would you be likely to take next time?
I want it to start RIGHT NOW! Reader and unofficial cheerleader (like I did now).
According to my e-reader I need only 3 more hours of reading to finish the last 27% of Crossing to Safety. If.. I had started at the right time I had made it. So I am a little tempted to steal that time right now but on the other hand there are several tasks waiting for me. Appealing my self-discipline. ;)
Anywayz, I have enjoyed myself SO MUCH that I'm determined to make reading part of my daily routine again (and play on my phone less). Thanks to Wallace Stegner I already know I want to read Bill Bryson's Walk in the Woods next. Yay for getting out of my reading slump!
THANK YOU Dewey and all the awesome people behind the 24 Hour Read-a-Thon!