You are currently browsing the category archive for the 'Sunday Salon' category.
The Sunday Salon is a virtual gathering of booklovers on the web, blogging about bookish things, visiting participating weblogs, and oh — reading books of course ;)
For 2015 I chose to set a goal on Goodreads. 2013-2014 had been slow book-wise, reading no more than 16 resp. 18 volumes. I was too embarrassed frustrated to even post the lists! ;) That's why a target of 20 seemed a bit of a challenge for 2015, but doable.
<insert drumroll please…> YAY! I surpassed my goal by 9!!! Making a total of 29 (listed further on), whisping me back to the level of 2012. #happydance
For 2016 I won't be aiming at a certain amount of books. Rather I'd be reinforcing the habit of reading more regularly. Once I've figured out the details I'll share them.
BOTNS Book Bingo
What helped keep me motivated the past year was the Books on the Nightstand Summer Book Bingo. I generated a card and though I didn't really pick my books according to the squares, it was fun checking where a read would fit and crossing it of. My friend Muizz was also playing, which made it even more fun. You should've heard me scream "BINGO!" once I got a full row completed! *grin*
Books read in 2015
Listed from most recently to early 2015:
The Mutts Winter Diaries ~ Patrick McDonnell
Terug naar Oegstgeest ~ Jan Wolkers
The Fire Kimono (Sano Ichiro, #13) ~ Laura Joh Rowland
De fietser van Tsjernobyl / El ciclista de Chernóbil ~ Javier Sebastián
History of a Pleasure Seeker ~ Richard Mason
Hug Time ~ Patrick McDonnell
Gevallen God / A God in Ruins ~ Kate Atkinson
Legend of a Suicide ~ David Vann
Potifars vrouw ~ Sophie Zijlstra
The Children Act ~ Ian McEwan
The Life-Changing Magic of Tidying Up ~ Marie Kondō
Globejotting: How to Write Extraordinary Travel Journals (and Still Have Time to Enjoy Your Trip!) ~ Dave Fox
The Buried Giant ~ Kazuo Ishiguro
De kat / 猫の客 / Neko no kyaku ~ Takashi Hiraide
Wachten op woensdag (Frieda Klein #3) / Waiting for Wednesday ~ Nicci French
Just One Evil Act (Inspector Lynley, #18) ~ Elizabeth George
Het boek van wonderlijke nieuwe dingen / The Book of Strange New Things ~ Michel Faber
Handleiding voor poetsvrouwen / A Manual for Cleaning Women: Selected Stories ~ Lucia Berlin
Geen gewoon Indisch meisje ~ Marion Bloem
Fox Evil ~ Minette Walters
Believing the Lie (Inspector Lynley, #17) ~ Elizabeth George
Housekeeping ~ Marilynne Robinson (audiobook)
Ik kom terug ~ Adriaan van Dis
Oorlog en terpentijn ~ Stefan Hertmans
Timothy's Book: Notes of an English Country Tortoise ~ Verlyn Klinkenborg
The Rise & Fall of Great Powers ~ Tom Rachman
Maandagskinderen / Synir Duftsins ~ Arnaldur Indriðason
The Strange Library ~ Haruki Murakami
How to Be Both ~ Ali Smith (audiobook)
Some new or recent, some classics, some bulky — others slim, many Anglo authors, less Dutch and a few other nationalities, hardcore literature and non-fiction next to easier stuff like mysteries/thrillers. Being easy on myself I read English language books more often in Dutch translation than usual.
Have you read any of these books?
The Year of the Daves (aka Favourite Reads of 2015)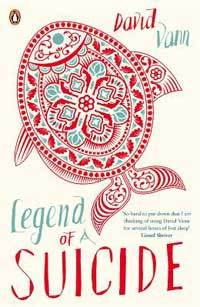 Looking back, the novel that left most of an impression is Legend of a Suicide by David Vann. It had been waiting patiently on my shelf for years — and didn't disappoint! I don't feel I've read anything like this collection before: gruesome, dreary, but touching at the same time. A rough diamant.
The most fun I had with Globejotting, a manual for travel journal keeping. It has helped me a lot and I can't wait to start over, doing all exercises.
Depending on time and inspiration I'll write a follow-up about some other highlights of 2015. For now: curl up on the couch and have a cosy Sunday!
We've got a little more than an hour to go of the 24 Hour Read-a-Thon but I realised that I no longer feel like reading. So I'm going to quit! I've read for an embarrassing total of 3:15 hours (*hides in shame*) but that's more than I've read in a long time and I got halfway The Book of Negroes -a chunkster- so I've met my goal. ;)
You can laugh.
You can point your fingers at me.
You may argue that I'm not a worthy readathonner.
BUT I'M HAPPY WITH WHAT I'VE DONE! And I know you're all nice people and won't think anything bad of me anyway! :D
A big THANK YOU to the organisers, mini challenge hosts, cheerleaders and all participants who made this spring 2013 read-a-thon possible. I hope to see you all around next fall!
Early End of the Event Meme
Which hour was most daunting for you?
The first few hours when I had expected to read a lot in one stretch before I needed to go to a birthday party but didn't . :(
Could you list a few high-interest books that you think could keep a Reader engaged for next year?
Well, the book I have been reading today is definitely one of those: The Book of Negroes by Lawrence Hill!
Another would be Kafka on the Shore by Haruki Murakami or Julian Barnes' The Sense of an Ending for a shorter novella.
Do you have any suggestions for how to improve the Read-a-thon next year?
Not really, everything runs so smoothly! Except maybe that I don't like mini challenges that take up a lot of reading time but are too tempting to resist. I've had issues with those in previous years and now I tend to ignore the challenges as a whole so I won't get distracted.
What do you think worked really well in this year's Read-a-thon?
I can't think of anything that went better than other times!
How many books did you read?
(*whispers*) Not even one: just the first part of The Book of Negroes; books 1 and 2.
What were the names of the books you read?
Ha! I already mentioned that several times and I don't think you want to hear me say it again! LOL
Which book did you enjoy most?
Well, THAT one. ;)
Which did you enjoy least?
–
If you were a Cheerleader, do you have any advice for next year's Cheerleaders?
–
How likely are you to participate in the Read-a-thon again? What role would you be likely to take next time?
Yes please! Looking at my results I shouldn't challenge myself beyond reading though…
The Sunday Salon is a virtual gathering of booklovers on the web, blogging about bookish things of the past week, visiting each others weblogs, and oh — reading books of course ;)
If you're on Instagram you've probably heard of the monthly #photoaday meme in which people daily post a picture inspired by a list of tags. I tried it once, but couldn't keep up.
Yesterday I found out that The Estella Society -a reading playground built by book bloggers- is hosting something alike in March: a Bookish Photo a Day. I love the idea! So I jumped in right where we are, in week #2.
Curious about my contributions? View them on Statigram (hashtag #EstellaGram)!
Is anyone else playing along?
The Sunday Salon is a virtual gathering of booklovers on the web, blogging about bookish things of the past week, visiting each others weblogs, and oh — reading books of course ;)
The Sunday Salon is a virtual gathering of book lovers on the web, blogging about bookish things of the past week, visiting each others weblogs, and oh — reading books of course ;)
Last November -that's almost a year ago indeed- Annemieke from Rozemarijn kookt asked on Twitter who would like to receive her copy of A Vegan Taste of Greece, by Linda Majzlik. Of course I was interested and she kindly sent me the book. Shame on me that I didn't cook from it until a couple of weeks back!
Now why did I finally pick it up?
Well.. There's a PPK Cookbook Challenge on the Post Punk Kitchen forum. A vegan cookbook is chosen each week, and if you don't have that particular book you can choose another from your shelves. This event coincides with Uniflame's Cookbook Challenge on She Likes Bento. The difference between the two?
PPK: any (vegan) book will do if you don't have the designated title but you'll need make at least three recipes from it.
She Likes Bento: there's no set amount of recipes to try (just one will do) but you have to choose an unused or hardly touched cookery book.
Conclusion: I'm making it harder on myself by combining the two. What else is new? ;)
A Vegan Taste of Greece by Linda Majzlik
A Vegan Taste of Greece was the only vegan cookbook I own from which I hadn't tried a single recipe — so there really was no other first choice possible.
After a short introduction on the origin of Greek food and its place in society, A Vegan Taste of Greece starts with an alphabetical list of a regular pantry, often including nutritional info. Nice! The rest of the book is divided into chapters focussing on different courses: mezedes, soups, main courses, vegetables, grain accompaniments, salads, sauces and dressings, breads, desserts and baking.
I've made 4 recipes from 3 different sections: a main course, grain accompaniment and two salads, one green and one legume (bean). Each recipe indicates the amount of servings; mostly four but since it's just the two of us here at Graasland, I usually made half of it.
Main course: Briami
Briami is a vegetable casserole containing potatoes, courgette, red pepper, mushrooms, onion, tomatoes and a selection of herbs & spices like fennel seeds, rosemary and thyme. Wine and lemon juice provide additional liquid. The dish is finished off with olives and vegan cheese, for which I used a combination of faux parmezan and 'rawmezan' (a mix of ground nuts & 'nooch', aka nutritional yeast). Sounds good, doesn't it?
Despite of all the flavourful ingredients I found the briami rather bland. :( It could have used more sauce and even then I'm not sure it would be really good. Maybe my expectations were too high? Mr Gnoe thought it was okay.
It's an easy recipe to make but it does take some time preparing because of all the ingredients required. And then it has to go into the oven for about an hour. Oven dishes that can be prepared in advance are great when having guests for dinner, but I don't think I would dare serve this. Don't want to confirm a possible prejudice that vegan food is tasteless! ;)
Grain accompaniment: Minted bulgar with leeks
The bulghur was… nice, but once more a bit dull. Admittedly I forgot to garnish with fresh mint. But I could hardly taste the dried peppermint that was also in it, and the leeks were so overcooked that they'd lost most of their flavour. I like leek, so it was another disappointment. I would consider making this again though: as an idea it's more exciting than just wheat, it's easy to make and a great way to add more vegetables to a meal. Next time I'd bake the veg separately until just done and combine everything at the end. It was a good combo with the seitan stroganoff though!
Green salad: fennel and avocado
I've got this surprisingly good fennel-tomato salad recipe and avocado is one of my favourite fruits, so I was eager to try a Greek recipe combining them. The biggest differences between the two are that the fennel is cooked first in the new recipe and it doesn't have basil & black olives but watercress (and avocado) instead.
You can probably guess by now… Another flavourless dish. I expect Mediterranean food to be tasty! Furthermore, all ingredients were soft (not to say mushy) and I rather like a crunchy salad. My ideas for improvement? Keep the fennel raw, add olives & basil and maybe a little ouzo or other anise-flavoured drink. Of course having alcohol with your meal decreases the body's ability to absorb vitamins, but sometimes there's something to say for taste too. ;) But to be honest, I think I'll stick with my regular fennel salad recipe.
Bean salad: chickpea
The last recipe, chickpea salad, was a small hit — the best of the bunch anyway. Especially considering it's rather basic: a mix of cooked garbanzos, cucumber, a variety of peppers, red onion, black olives and a dressing made of skinned and finely chopped tomatoes, balsamic vinegar, olive oil, crushed garlic, fresh thyme and black pepper. I added a little salt as a flavour enhancer too. Yes, I will make this salad again when I have an open can of chickpeas!
The verdict
It will come as no surprise that I'm not really enthusiastic about A Vegan Taste of Greece. I'm considering discarding it, but first I'd like to try some recipes from other sections, like…
A mezé ~ walnut-stuffed mushrooms? Yellow split-pea spread fava? Courgette critters? Or jumping into the deep end with gyros made from scratch, finally using that bag of seitan starter I purchased?
Dessert ~ baked nectarines or orange glazed peach slices, almond & apricot pastries… They make my mouth water. :) But all require the purchase of a new ingredient: orange flower water.
Baked goods ~ sesame cookies, almond cakes, semolina & lemon slices… No? ;)
And the baked beetroot in the vegetable chapter sounds like good too.
So there's more to explore before the curtain falls. I'd like to try one each from the categories above before my final judgement. Still, there's a whole series of A Vegan Taste of… (France, India, East Africa, et cetera) by Linda Majzlik. Getting me to try another would require a copy to literally fall into my hands again.
I hardly dare finish with one more flaw of the book.. :\ I think it's partly a regional problem and doesn't apply to Americans. MANY of the recipes use vegan cheese or yoghurt. I haven't been able to find a good cheese substitute and feel reluctant to buy and use the varieties available here. In the US there's Dayia… Reviews are raving so I'd love to get my hands on that!
And soygurt… It lacks the sour freshness of its animal equivalent, which cannot be fully compensated by adding (extra) lemon. I just purchased a tub though, so I do plan on trying one of the recipes containing yofu too.
To be continued?
If you've got one of Majzlik's books I'd love to hear you think!
– – – – –
Join Beth Fish's Weekend Cooking with a food-related post!
The Sunday Salon is a virtual gathering of book lovers on the web, blogging about bookish things of the past week, visiting each others weblogs, and oh — reading books of course ;)
Months ago, it must have been somewhere in spring, I suddenly had enough. I haven't told you (really didn't mean to keep it a secret! ;) but I quit all the challenges I'd subscribed to for 2012. Just like that, cold turkey, after having been an addict for years! ;)

Then came October… autumn. And Uniflame announced a two-month Cookbook Challenge inspiring people to cook from under-used cookbooks — who doesn't have some of those hanging around? Of course I had to join. :) So Gnoe's back in business!

Since it's VeganMoFo this month, I'll concentrate on vegan cookbooks. Starting of with A Vegan Taste of Greece by Linda Majzlik, that was passed on to me earlier this year — and until now I hadn't tried a single recipe. I'll probably share my experiences with the book next Sunday Salon.
Other vegan cookbooks on my shelf that qualify:
Non-fish-a-licious and
(maybe) Lisette in Luilekkerland, both by Lisette Kramer.
Vegetarian nominees:
Yogi food (Jet Eikelboom & Seth Jansen),
The Art of Tofu (Akasha Richmond),
Living Among Meat Eaters (Carol J. Adams),
Koken in McDonald's kitchen (Andy McDonald).
One omni cookbook that I've had for two decades, haven't cooked from and still fail at getting rid of: Aan tafel met Yvonne Keuls, a collection of family recipes from Yvonne Keuls, a Dutch writer with Indonesian roots.
Which cookbooks have you hardly used?
– – – – –
Join Beth Fish's Weekend Cooking with a food-related post!
Last week I promised to share my thoughts on my first read of 2012: Dromen van China by Ian Buruma, or The China Lover ('Dreaming of China') as it's originally called. This edition is translated to Dutch by Eugène Dabekaussen & Tilly Maters.
I prefer the Dutch title to the English because more than anything, The China Lover seems to be a story about feeling at home in a place that isn't — and may not even exist. I think all book lovers can relate to that?
It's a historical novel in three parts, all set in different time periods, revolving around Yoshiko Yamaguchi a.k.a. Ri Koran/Li Xianglan: a beautiful, Manchurian-born Japanese screen star. She is not the main character of the book, but a centerpiece in the lives of three male protagonists. These men share another love: cinema, turning The China Lover also into a story about film.
Strangely enoug the book is not really about China but about the development of Japan and the country's positioning in the world throughout the decades of the mid 20th century.
It starts in the 1930s with Sato Daisuke, a Japanese 'information broker' in Manchukuo. Manchukuo was an under 'The Last Emperor' Pu Yi established Japanese puppet state in Manchuria — really an aggressive occupation of Chinese territory. Daisuke falls in love with China (and its women) and believes in creating an ideal state through cinema as he feels more at home here than in the 'straightjacket' Japan.
Yoshiko Yamaguchi is his protege: by his hand she starts working as an actress & singer. The movies in Manchukuo are mere propaganda, meant to help give Manchukuo its shape and to sway the Chinese in favour of their Japanese occupiers. Therefore Yoshiko Yamaguchi must keep her Japanese nationality top secret and pretend to be Chinese under the stage name Ri Koran, or Li Xianglan.
The second part of the novel is set in post-war Tokyo. The story is told from the perspective of an American GI, Sidney ('Sid') Vanoven, who falls in love with Japan. He becomes a film reviewer and befriends Yoshiki Yamaguchi in that capacity. The starlet even goes to the US where she reinvents herself as Shirley Yamaguchi.
In this part the big screen is again used for propaganda, this time by the American occupiers: to impress democratic values on the Japanese people. Feudal samurai stories are no longer allowed. But cinema is also an escape from reality; not because of glamour, but by looking at folks in similar situations. There is no need to wallow in unhappiness when you can cry freely for the misery of fictional characters.
The book closes in the 1960s-1970s with Sato Kenkichi, a soldier of the Japanese Red Army fighting the Palestinian cause, imprisoned in Beirut. Starting out as a 'pink' (porn) movie assistant he later gets to work for a TV show with.. Yoshiko Yamaguchi as presenter. Even after their paths take different directions, Yoshiko still travels the world bringing news of oppressed peoples and their leaders. Film is used in this section as a medium for atonement, as well as propaganda.
All three men tell their story looking back from an uncertain time in the 'present'. That their names are similar cannot be a coincidence and it probably means that this isn't really about them, but about the growth of Japan as a nation. It can also explain why this book is called The China Lover, after its first protagonist: Sato Daisuke. He's the one infatuated with China, and his surname, Daisuke, can even be translated as 'favourite' or 'I love it'. At first I didn't understand why this book would be called after him but now I understand that although the separate narrators are different (showing consecutive phases in Japan's evolution), they are also the same.
Besides, he is not the only one who loves China above all places.. that also goes for Yoshiko Yamaguchi.
Embracing The China Lover?
So, did I love The China Lover?
I had a bit of a hard time getting into the story. Buruma takes his time explaining the setting of the first part (which was needed as the history of Manchukuo was completely unknown to me), introducing many characters — some of which have more than one name.* I'm not familiar with Chinese names and places and for the first time I understood a complaint I heard several times about David Mitchell's The Thousand Autumns of Jacob de Zoet. I've read quite some JLit and at the time I couldn't accept that people had trouble keeping the Japanese characters and places apart… Now I can. ;)
But the most serious drawback of this section was that the narrator didn't really sound Japanese or Asian to me.
* Just like Yoshiko Yamaguchi a.k.a. Ri Koran, Li Xianglan, Shirley Yamaguchi and a literal translation of her Chinese name that I forgot. She's even got more names that aren't mentioned in the book!
So 'the China part' was giving me most trouble. But in the following pages I also felt at times that the author wanted to include everything into the story; even Idi Amin, Ghadaffi and Yasar Arafat got covered. Isn't that a bit too much?
About the second part of the novel I like how you know immediately there's an American speaking by the use of a military acronym in the first sentence (GOMIP = Geen Omgang Met Inlands Personeel). This character is probably closest to the author, who's been an American in Asia for several years. That's probably why the narrator of this section felt much more true.
In regard to the translation I was sometimes bothered when sentences were confusingly long and would have been better constructed in a different order. It may not be a major issue, but it disturbed my 'flow' and increased the already present flaw that the story was at times was hard to follow because of all the information to absorb. Next time I hope Buruma takes the trouble to narrate a story in Dutch himself. ;)
Considering my interests in Asia (specifically Japan), cinema, feminism and globalism, and the fact that the book is broad and quite entertaining, it seems strange I was not swept of my feet by it. So I guess reading another novel by Ian Buruma is not high on my priority list (though his book about the Theo van Gogh assassination piques my interest). But I came to learn new things about Asian and Western history and was triggered to look up facts about Manchukuo and Yoshiko Yamaguchi, now Yoshiko Ōtaka. Did you know she'll turn 92 in 3 weeks?! During her active years she took up politics and was a member of parliament for 18 years.
What I am really excited about is the fact that my favourite movie director, Hirokazu Kore-eda, is said to be planning a feature film about the life of this many-faced woman. Now that's something to look forward to!
Chinese Literature
The China Lover has been in my possession since its year of publication (2008) but I never got around to it, even though I stacked it on my readathon pile several times. Thanks to Chinoiseries' Chinese Literature Challenge I finally picked it up!
I was surprised to find that a book with this title wasn't really about China. Only the first section of the book is set in Manchuria, or Manchukuo at the time. It is an important section of the book but as I related above, I had a little trouble getting focussed with all the unfamiliar names, places, political and historical setting. I'm still not sure whether that (small) problem lies with me, or with the author. I have learnt something about a time and place I had no knowledge of whatsoever and feel wiser now. ;)
With this review I just managed to accomplish my goal for the Chinese Literature Challenge. Next time I'll try to aim a little higher!
Historical Fiction
That I had started 2012 with a historic novel made it easier to enter the Historical Fiction Challenge on Historical Tapestry and Eclectic Reader Challenge on Book'd Out. It is not a genre I'm much used to, and being able to cross off one daunting book from the challenge list is always a good feeling.
As I mentioned with the Chinese Literature Challenge, I have learnt some interesting facts about historical people and places. I like that very much and look forward to reading more historical fiction. Although I wasn't convinced that the first narrator was Asian, all the characters felt true to life — and alive. I could not differentiate between truth and fiction, which seems a good thing?
Now I've got one more historical novel to go for the 'Out Of My Comfort Zone' level in the Historical Fiction Challenge, and 11 more (other genres) as an Eclectic Reader…
To Be Continued!
The Sunday Salon is a virtual gathering of booklovers on the web, blogging about bookish things of the past week, visiting each others weblogs, and oh — reading books of course ;)
My previous Sunday Salon was all about reading challenges. There are of course the usual suspects — but also a desire to discover new horizons.
I stated I had room for just the one more… Well, I changed my mind. ;) If I'm going to get out of my comfort zone I shouldn't just explore different genres but also new challenges! The result: I went totally overboard and joined almost all of the ones I contemplated — and the one I had forgotten to mention in the first place. ;)
This is my admission post for three of the reading challenges. Hop to the bottom of this post for my current read.

Eclectic Reader Challenge
With its obligation to read 12 books from different categories –several of which I would never pick by myself– The Eclectic Reader Challenge on Book'd Out is quite the dare for me. And worth a try! Here's a list of the genres.
Literary Fiction
Crime/Mystery Fiction
On the shelf: This Body of Death (Elizabeth George)
Romantic Fiction
On the shelf: Oryx and Crake (Margaret Atwood)?
Possibly: Verwante stemmen / An Equal Music (Vikram Seth)?
Historical Fiction ✔
Read: Dromen van China / The China Lover (Ian Buruma)
Young Adult
On the shelf: The Graveyard Book (Neil Gaiman)
Fantasy
On the shelf: The WeeFree Men (Terry Pratchett)
Science Fiction
On the shelf: Oryx and Crake (Margaret Atwood)
Non Fiction
On the shelf: Met bonzend hart; brieven aan Hella S. Haasse / 'Letters to Hella S. Haasse' (Willem Nijholt; memoir)
Horror
Wishlist: Out (Natsuo Kirino)
Thriller /Suspense
Classic
On the shelf: The Moonstone (Wilkie Collins)
Your favourite genre
To some of these genres I already added a book but as you have learnt today: anything can change!
Historical Fiction Challenge
I don't read many historical novels. One could possibly argue Bandoen-Bandung and Kandy from F. Springer belong to this genre, or Erich Maria Remarque's All Quiet On The Western Front. If not, then I haven't read any historical fiction in 2011 and we'd have to go back to mid 2010 when I read The Thousand Autumns of Jacob de Zoet, a very enjoyable novel by David Mitchell.
High time for the Historical Fiction Challenge on Historical Tapestry! The easiest level seems to be tailor-made for me: 'Out of My Comfortzone' = 2 books. Looks doable as I'm currently reading a historical novel by Ian Buruma: The China Lover! That leaves eleven months to find another one.
My online bookgroup the Boekgrrls have Hella Haasse's De heren van de thee (The Tea Lords) planned for March. But that'll be a reread for me so I may need to find something else. I recently bought Mevrouw Couperus (Mrs Couperus), a novel about the spouse of the late 19th, early 20th Century author Louis Couperus, by Sophie Zijlstra. But there are also great reports out about The Night Circus by Erin Morgenstern?! :)

Nordic Challenge 2012
My sister-in-law recently moved to Denmark with her husband and kids. I'm not much familiar with Scandinavian authors yet so it's good news that Zommie from Reading in the North decided to host another Nordic Challenge! I'd love to explore the Nordic countries in literature as well as in real life.
There seem to be no set levels so I will read at least one book, but hope to do better than that! I spotted a Danish novel on Mt. TBR: De vrouw en de aap (The Woman and the Ape) by Peter Høeg. And I may also try that new mystery writer my mother-in-law discovered, whatshisname… :)
Now don't tell anyone because we haven't really decided yet, but Mr Gnoe and I are considering doing a class about Scandinavian movies!
I have no idea if I'll cope with all my challenges this year: January is halfway done and so far I still have to finish my first book! ;) But I won't put too much weight on them. Reading should be fun, and so do challenges!

Currently reading
I just told you I still have to finish my first book of 2012: The China Lover by Ian Buruma. The author was born in the Netherlands and I'm reading the Dutch translation, Dromen van China, but was surprised to see it'd originally been written in English.
It's a novel in three parts, all set in different time periods, having seperate main characters. Connecting these stories is Yamaguchi Yoshiko a.k.a. Ri Koran/Li Xianglan, a Manchurian born Japanese movie star. She's never the narrator, always an admired 'object', but does get to have her say as she's met in person by all three protagonists.
For me, part of the attraction of this book is that it shows how film is used (and experienced) in different ways through history.
I've been wanting to read it for ages (it has been gathering dust on my shelves) and I'm thankful to the Chinese Literature Challenge for finally getting me to pick it up. Even better: now I can add it to both my Historical Fiction and Eclectic Reader Challenge lists! I'm almost done reading so I'll tell you more about it later!
The Sunday Salon is a virtual gathering of booklovers on the web, blogging about bookish things of the past week, visiting each others weblogs, and oh — reading books of course ;)
The Sunday Salon is a virtual gathering of booklovers on the web, blogging about bookish things of the past week, visiting each others weblogs, and oh — reading books of course ;)
This second Sunday Salon of 2012 is about the year's reading challenges. I've subscribed to some — and am still thinking about others. That's okay, as I don't like to be straightjacketed too soon. ;) The challenges of 2011 will get their own collective wrap-up post.
2012 reading challenges (so far)
I'll be certainly doing the following challenges this year.
Chinese Literature Challenge (hosted by Chinoiseries)
I'm not sure whether this really counts as a 2012 challenge because it started in February '11 and ends later this month (January 23rd). But I'm reading for the challenge as we speak (The China Lover by Ian Buruma, in Dutch) so why exclude it from my list?
What's in a Name Challenge #5 (at Beth Fish reads)
My fourth time participating in this fun challenge. Speaking about random choices… See what's it all about in my admittance post!

Murakami Reading Challenge 2012 (continued by In Spring it is the Dawn)
I was glad to learn tanabata decided to continue the Murakami Reading Challenge into 2012! There are a still a few books by the author that I haven't got around to (and as you know I mean to read all of them) so why not herd with the others? Setting the goal low this time at 3 books (level Sheep Man).
Japanese Literature Challenge #6 (starting in June this year, hosted by Dolce Bellezza)
I always join the Japanese Literature Challenge and 2012 will be no different. If Bellezza decides to host it again that is… Let's wait and see! Requirements are low: I'll just need to read one book. That's good as I do want to read some JLit again this year. But it can't be as much as last year or I'll fail at my wish to explore new reading areas.
As a matter of fact, the Japanese Literary Challenge #5 still continues until the end of this month!
Now I quickly need to find the time to update my challenge page and sidebar!
Reading challenges I'm considering
Although I like reading challenges because of the 'random' way they help me pick books of my shelf, I can't handle too many of them. I just don't read as much as others (under 40 books a year), nor review as much. And I get stressed easily. ;) I'd say about 5 is doable — but still a challenge. :) With the ones I already commited to that leaves room for er… one more. :\
So I'm looking for a challenge that doesn't prescribe too many books (gotta leave some room for 'free' choices) and where reviewing is not compulsory. Also, I mostly want to choose unread books that I already own or can borrow.
Having that said, I decided I'd like to get out of my comfort zone more. I'll embrace any challenge helping me do that!
So here are the ones that appeal to me.
Foodies Read 2 (from Joyfully Retired)
I participated in the first Foodies Reading Challenge. How could I not?
Pro: how can I not join this challenge again? I'm a reading foodie!
Contra: I didn't manage to write about some of my books last year (wrap-up post coming) and reviewing is sorta mandatory. Then again, I post about food anyway and want to share some thoughts on cookbooks. It's a must!
Eclectic Reader Challenge (on Book'd Out)
Pro: 12 different genres to read from; some comfortable but most of them are not. ;)
Contra: 12 books (for one challenge only) is about 1/3 of what I read a year! And reviewing is obligatory. Of course overlapping with other challenges/readalongs is possible and I could revert to mini reviews. That some of the genres, like YA and fantasy, REALLY don't attract me — well, that's what I was asking for, right? I may be pleasantly surprised… and might actually have some fitting titles on my shelf!
South Asian challenge (hosted by S.Krishna)
Pro: I've read plenty of Japanese literature and some Chinese and Indonesia related, but how about that other part of Asia? I think I'm only familiar with the work of Nadeem Aslam — one of my favourite authors!!! That's a recommendation to try more from the area, right?
Contra: I don't think I own any books that fit this challenge. :( *Mutters "out of my reading nook, new explorations…"*
Historical Fiction Challenge (set at Historical Tapestry)
Pro: the lowest level (2 books) is called 'Out of My Comfort Zone'. ;) Every once in a while I read an historical fiction novel, but not every year and certainly not multiple books. One of my choices could overlap with the Eclectic Reader Challenge.
Contra: how much of a challenge is this really?
Are you doing some of the above? Are you maybe hosting an interesting challenge? I welcome any suggestions you may have!
The Sunday Salon is a virtual gathering of booklovers on the web, blogging about bookish things of the past week, visiting each others weblogs, and oh — reading books of course ;)
I've called my yearly overview of books "The Pile of Books I Kicked Over.." once before, but this time the title fits even better. In 2011 I devoured a total of 38 books, which is nine more than I read in 2010!
Now how is that for a first post and Sunday Salon in 2012?
Of course I pledged to tackle eleven more books this year for the Books on the Nightstand +11 in '11 Challenge, which would have brought my total up to the nice round number of 40. Well, there you have it: my first #FAIL. ;)
Looking over my list, it is not easy to pick an instant favourite. Although I liked most of the books I read, there aren't many outstanding works worth mentioning. Although I gave three of them the max of 5 stars in Goodreads, concerning one I have a hard time remembering about what it was exactly…
Interlude: here I corrected myself thanks to the marvellous, but strict Dr Kermode who will not allow the word order of "what it was about." A grammar lesson learnt in 2011. ;)
So, did I accept quantity over quality? No Ma'm, I did not. I could've easily picked two short novellas from my shelf when the end of 2011 was nigh. Like Murakami's Sleep, for instance, T.S. Elliot's Cats or Joost Zwagerman's Duel. But just as I promised when I joined the BOTNS challenge, I did not bend my reading preferences according to book size.
Now quit digressing! Here are the books I read in 2011 in reversed chronological order. Other thoughts and statistics will follow later on.
Books read in 2011
Kandy: een terugtocht ('Kandy: a retreat'), F. Springer
Vernon God Little, DBC Pierre
XY, Sandro Veronesi (Boekgrrls December read)
De duif en De erfenis van Maître Mussard, Patrick Süskind
Bandoeng-Bandung, F.Springer
Van het westelijk front geen nieuws (Im Westen nichts Neues / All Quiet on the Western Front), E.M. Remarque (November Boekgrrls read)
Season of the Rainbirds, Nadeem Aslam
Tinkers, Paul Harding
1q84 (Boek een, twee & drie), Haruki Murakami (JLit Book Group November/December)
Modelvliegen, Marcel Möring
Thousand Cranes, Yasunari Kawabata (JLit Book Group August)
The Help, Kathryn Stockett (Boekgrrls August read)
Underground, Haruki Murakami
Dagboek van een Geisha (Memoirs of a Geisha), Arthur Golden
Witte oleander (White Oleander), Janet Fitch (bx copy)
Before I Go to Sleep, S.J. Watson
The Woman in the Dunes, Kobo Abe (JLit Book Group June)
Zeitoun, Dave Eggers (Boekgrrls June read; nonfiction)
Verraad, verleiding en verzoening: de rol van eten in speelfilms, Louise O. Fresco & Helen Westerik (nonfiction)
Travels in the Scriptorium, Paul Auster
The Terrible Privacy of Maxwell Sim, Jonathan Coe (Boekgrrls May read)
Bento Box in the Heartland: My Japanese Girlhood in Whitebread America (a Food Memoir), Linda Furiya (nonfiction)
Crime School, Carol O'Connell
All She Was Worth, Miyuki Miyabe (Bookcrossing book ring)
Vegan Family Meals: Real Food for Everyone, Ann Gentry (cookbook; Netgalley e-book)
2666, Roberto Bolaño (readalong)
La Dolce Vegan! Vegan Livin' Made Easy, Sarah Kramer (cookbook)
In the Miso Soup, Ryu Murakami (JLit Book Group February)
Pinball, 1973, Haruki Murakami
Ik haal je op, ik neem je mee (Ti prendo e ti porto via / I'll Steal You Away), Niccolò Ammaniti (Boekgrrls February read)
Geketende democratie: Japan achter de schermen ('Democracy in chains: behind the scenes of Japan'), Hans van der Lugt (nonfiction)
Sneeuwland (Yukiguni / Snowland), Yasunari Kawabata
Blacklands, Belinda Bauer (Boekgrrls Januari read)
Poelie de Verschrikkelijke ('Poelie the Terrible'), Frans Pointl
Hear the Wind Sing, Haruki Murakami
Kalme chaos (Caos Calmo), Sandro Veronesi (Boekgrrls December 2010 read)
Quite the list eh? And I also reread the beautiful short story Het geluid van een stoomfluit midden in de nacht (Yonaka no kiteki ni tsuite / 'A Steam Whistle in the Middle of the Night') by Haruki Murakami.

Thoughts
The book(s) I enjoyed the most this year was Haruki Murakami's 1q84 trilogy. Readers from the Japanese and English speaking hemispheres may wonder why I keep using a lower case 'q' (kyu) when referring to the author's latest work, since it's originally written as 1Q84. Well, the Dutch translators decided to use a small 'q', resembling the number '9' much better!
Volumes 1,2 and 3 together are over 1350 pages thick but I read all three of them in just two weeks. Enough proof of how much I liked it. :) It's a typical late Murakami of which story you should know nothing beforehand.
Reading 1q84 I regularly had to think back to a work of non-fiction I read earlier this year: Underground, about the Tokyo gas attack. It's amazing how delicate Murakami treats the subject, showing more about himself as a person than I ever saw, heard or read in interviews or previous books.
A further special mention goes to another Japanese novel: The Woman in the Dunes by Kobo Abe. A strange story calling up an eerie atmosphere; bordering on a grim fairy tale. The images easily reappear before my mind's eye so I have no problems recalling what this classic is about. Oops, preposition at the end of my sentence again, apologies to Dr Kermode! ;)
So it's all Japanese favourites this year. Figures. ;) One of my intentions for 2012 is to read a little more OUT of my comfort zone. Another post will out-lay the rest of my reading plans for this year. *whispers* I haven't really figured them out yet myself!
Luckily I also very much liked some non-JLit books like Sandro Veronesi's XY (thought-provoking), Remarque's All Quiet on the Western Front (compelling), Belinda Bauer's Blacklands (thrilling) and Dave Eggers' Zeitoun (shocking).
The biggest bone to tackle this year was 2666 BY FAR. It's supposed to be a contemporary classic and comes highly recommended by one of my favourite authors, Kazuo Ishiguro, but it could not charm me. I struggled all the way through to the end and I'm proud to say that I was at least able to finish it! 898 pages of small characters, in English. Gah.
2011 Book charts
As always I'd love to share some pie charts. About the gender of authors read, the ratio of fiction to non-fiction (to faction, which is null ;), where I got my copies from, peer-pressure (!) and the language area from which authors originate.
Gender of authors read
Hm, I'm not completely satisfied with the ratio of female authors to male among the books I read this year.. Needless to say it should be more of a fifty-fifty situation!
Fiction to non-fiction
The fiction / non-fiction chart doesn't show much difference from previous years: I obviously prefer to read fiction — especially now that I'm having 'concentration issues'. O_o
The Pile
I haven't looked at the origin of my books before, but as I seem to have read a lot of books being passed on by other Boekgrrls, I thought I'd analyse that data this year. ;)
Peer-pressure
Oh how I love my peer-pressure. Buddyreads, group reads, readalongs & readathons, challenges, book rings… You name it — been there, seen it, done that. ;) Of course I should also have put in this graph the books I read without any relation to others… Next time, I promise.
Language areas
Now I did not read all of these books in their original language, it's just a vague chart dividing my books into language areas. Most books that are written in English I read in their original language. The same goes for Dutch books. :) The rest I've read in translation to either Dutch or English. Maybe next year I'll try my hand at some German..?
Note: of course Chilean and Pakistani are nationalities, not languages, but you get the idea.
So, did you surpass and/or surprise yourself with the books you've read?
Any favourites you'd like to share?
Did you read any of mine?
Now that December has arrived and I had a good and hard look at my reading challenges, it seems like the right moment to add another on the brink of the new year… Am I crazy? I assure you I'm not. ;)
Loving Books' Get Read-y for 2012 Challenge is meant to help me get the books read I already wanted to finish!
Here's my TBR pile for the rest of the year…
XY, by Sandro Veronesi. It's the December read for my online book group, the Boekgrrls. I'm currently halfway this intriguing novel — giving me lots to think about!
Kandy, by the recently deceased F. Springer. A friend is visiting her place of birth, Sri Lanka, starting December 9th. Would love to read this book while she's there!
I promised Elsje to buddy read Haruki Murakami's The Elephant Vanishes before the end of the year. Have to make good on my promise! This collection of short stories will also count for the Haruki Murakami Reading Challenge and Japanese Literature Challenge #5.
Ian Buruma's Dromen van China (The China Lover). The book I pledged to read for the Chinese Literature Challenge. Come on… I need to read just one book for this challenge. Host Chinoiseries cheered me on so I can't let her down!
These three books are absolute MUSTS for me. Then there's a few more I'd love to finish before the year is over. To begin with, these 3 are not enough for the 6 I need to accomplish my +11 in 2011 challenge, in which I try to read 11 more books than I did last year. Also, I'm currently 2 books short for the What's in a name challenge #4. So, here's what I'd further LIKE to read this month… (though I already know I will never manage to ;)
Kokoro, by Natsume Soseki. I had wanted to join in the Japanese Literature Book Group read of October & November, but missed out. As the book is on my shelf (and 'just' 254 pages long) I may be able to submit a late contribution?!
The Moonstone (Wilkie Collins) for the JEWEL/STONE categorie in the What's in a name challenge.
DBC Pierre's Vernon God Little for the SIZE categorie in the What's in a name challenge, or Little Bee by Chris Cleeve which I borrowed from Elsje and should be returned to its lawful owner. But that would be a good one for next year's CREEPY CRAWLIES as well.. ;)
Of course I may just cheat to get to my goal of 40 books in in the +11 challenge and pick up some shorties as the month comes to an end…
Like the most recent Dutch publication of a Murakami novel: Slaap (Sleep). ;)
You can still sign-up for the Get Read-y for 2012 challenge!
The Sunday Salon is a virtual gathering of booklovers on the web, blogging about bookish things of the past week, visiting each others weblogs, and oh — reading books of course ;)