You are currently browsing the tag archive for the 'lijst' tag.

Seven years ago I did a wrap-up meme of my books read in 2010. Although I'm a way less prolific reader now and we're already in February (did we skip a month?), I feel like doing this 2018 in review again anyway.
So here goes…
The first book you read in 2018: De tolk van Java (The Interpreter from Java) ~ Alfred Birney
The last book you finished in 2018: Zomervacht ~ Jaap Robben
The first book you will finish/finished in 2019: The Death of Achilles ~ Boris Akunin
Your favorite "classic" you read in 2018: the oldest book I've read last year is Een ezeldroom ("A Donkey Dream") by Inez van Dullemen, published in 1977. I liked it but wouldn't particularly recommend, unless you're my age or have a home in rural France that you bought as a ruin and renovated…

The book series you read the most volumes of in 2018: I only read one book from a series: Aaron Falk #1 "The Dry" by Jane Harper. Will definitely read the sequel.
The genre you read the most in 2018: modern literary fiction.
The book that disappointed you: The Pillars of the Earth by Ken Follett. It wasn't bad (and even good in parts) but it had been on my wishlist for ages and expectations were high thanks to raving reviews in my bookish friends circle.
The book you liked better than you expected to: The High Mountains of Portugal by Yann Martell. I had bailed this one before because it annoyed me, but I was curious how it would turn out after the second and third part of the book.
The hardest book you read in 2018 (topic or writing style): The Interpreter from Java by Alfred Birney. The subject of being a child of the Indonesian colonial war survivors is close to home for me.
The funniest book you read in 2018: Donkey Work by Doreen Tovey.
The saddest book you read in 2018: The Golden Legend by Nadeem Aslam.
The shortest book you read in 2018: Simon's Cat by Simon Tofield.
The longest book you read in 2018: The Pillars of the Earth.
A book that you discovered in 2018 that you will definitely read again: The Golden Legend. I seldom reread books but this terrific novel certainly stands a chance.
A book that you never want to read again: The Interpreter from Java. Although the topic is close to my heart, this novel is way too long and not always written well. In my opinion it would have benefited by an additional review by the editor.
And finally, a New Year's Resolution: as I mentioned in my previous post I want to try and spend more time reading this year.
Looking back at my reading year in this way makes me realise that I have read way more Dutch literature than before. Partly due to my bookclub's choices, but not entirely. I both started and ended 2018 with novels from domestic authors and read two more. To my liking, I must admit ;)
Go to Goodreads if you want to see all the books I read in 2018 and how I rated them!
The Sunday Salon is a virtual gathering of booklovers on the web, blogging about bookish things, visiting participating weblogs, and oh — reading books of course ;)
For 2015 I chose to set a goal on Goodreads. 2013-2014 had been slow book-wise, reading no more than 16 resp. 18 volumes. I was too embarrassed frustrated to even post the lists! ;) That's why a target of 20 seemed a bit of a challenge for 2015, but doable.
<insert drumroll please…> YAY! I surpassed my goal by 9!!! Making a total of 29 (listed further on), whisping me back to the level of 2012. #happydance
For 2016 I won't be aiming at a certain amount of books. Rather I'd be reinforcing the habit of reading more regularly. Once I've figured out the details I'll share them.
BOTNS Book Bingo
What helped keep me motivated the past year was the Books on the Nightstand Summer Book Bingo. I generated a card and though I didn't really pick my books according to the squares, it was fun checking where a read would fit and crossing it of. My friend Muizz was also playing, which made it even more fun. You should've heard me scream "BINGO!" once I got a full row completed! *grin*
Books read in 2015
Listed from most recently to early 2015:
The Mutts Winter Diaries ~ Patrick McDonnell
Terug naar Oegstgeest ~ Jan Wolkers
The Fire Kimono (Sano Ichiro, #13) ~ Laura Joh Rowland
De fietser van Tsjernobyl / El ciclista de Chernóbil ~ Javier Sebastián
History of a Pleasure Seeker ~ Richard Mason
Hug Time ~ Patrick McDonnell
Gevallen God / A God in Ruins ~ Kate Atkinson
Legend of a Suicide ~ David Vann
Potifars vrouw ~ Sophie Zijlstra
The Children Act ~ Ian McEwan
The Life-Changing Magic of Tidying Up ~ Marie Kondō
Globejotting: How to Write Extraordinary Travel Journals (and Still Have Time to Enjoy Your Trip!) ~ Dave Fox
The Buried Giant ~ Kazuo Ishiguro
De kat / 猫の客 / Neko no kyaku ~ Takashi Hiraide
Wachten op woensdag (Frieda Klein #3) / Waiting for Wednesday ~ Nicci French
Just One Evil Act (Inspector Lynley, #18) ~ Elizabeth George
Het boek van wonderlijke nieuwe dingen / The Book of Strange New Things ~ Michel Faber
Handleiding voor poetsvrouwen / A Manual for Cleaning Women: Selected Stories ~ Lucia Berlin
Geen gewoon Indisch meisje ~ Marion Bloem
Fox Evil ~ Minette Walters
Believing the Lie (Inspector Lynley, #17) ~ Elizabeth George
Housekeeping ~ Marilynne Robinson (audiobook)
Ik kom terug ~ Adriaan van Dis
Oorlog en terpentijn ~ Stefan Hertmans
Timothy's Book: Notes of an English Country Tortoise ~ Verlyn Klinkenborg
The Rise & Fall of Great Powers ~ Tom Rachman
Maandagskinderen / Synir Duftsins ~ Arnaldur Indriðason
The Strange Library ~ Haruki Murakami
How to Be Both ~ Ali Smith (audiobook)
Some new or recent, some classics, some bulky — others slim, many Anglo authors, less Dutch and a few other nationalities, hardcore literature and non-fiction next to easier stuff like mysteries/thrillers. Being easy on myself I read English language books more often in Dutch translation than usual.
Have you read any of these books?
The Year of the Daves (aka Favourite Reads of 2015)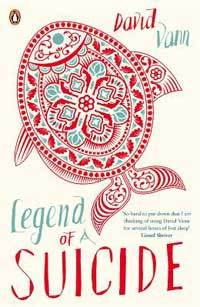 Looking back, the novel that left most of an impression is Legend of a Suicide by David Vann. It had been waiting patiently on my shelf for years — and didn't disappoint! I don't feel I've read anything like this collection before: gruesome, dreary, but touching at the same time. A rough diamant.
The most fun I had with Globejotting, a manual for travel journal keeping. It has helped me a lot and I can't wait to start over, doing all exercises.
Depending on time and inspiration I'll write a follow-up about some other highlights of 2015. For now: curl up on the couch and have a cosy Sunday!
The Sunday Salon is a virtual gathering of booklovers on the web, blogging about bookish things of the past week, visiting each others weblogs, and oh — reading books of course ;)
I've called my yearly overview of books "The Pile of Books I Kicked Over.." once before, but this time the title fits even better. In 2011 I devoured a total of 38 books, which is nine more than I read in 2010!
Now how is that for a first post and Sunday Salon in 2012?
Of course I pledged to tackle eleven more books this year for the Books on the Nightstand +11 in '11 Challenge, which would have brought my total up to the nice round number of 40. Well, there you have it: my first #FAIL. ;)
Looking over my list, it is not easy to pick an instant favourite. Although I liked most of the books I read, there aren't many outstanding works worth mentioning. Although I gave three of them the max of 5 stars in Goodreads, concerning one I have a hard time remembering about what it was exactly…
Interlude: here I corrected myself thanks to the marvellous, but strict Dr Kermode who will not allow the word order of "what it was about." A grammar lesson learnt in 2011. ;)
So, did I accept quantity over quality? No Ma'm, I did not. I could've easily picked two short novellas from my shelf when the end of 2011 was nigh. Like Murakami's Sleep, for instance, T.S. Elliot's Cats or Joost Zwagerman's Duel. But just as I promised when I joined the BOTNS challenge, I did not bend my reading preferences according to book size.
Now quit digressing! Here are the books I read in 2011 in reversed chronological order. Other thoughts and statistics will follow later on.
Books read in 2011
Kandy: een terugtocht ('Kandy: a retreat'), F. Springer
Vernon God Little, DBC Pierre
XY, Sandro Veronesi (Boekgrrls December read)
De duif en De erfenis van Maître Mussard, Patrick Süskind
Bandoeng-Bandung, F.Springer
Van het westelijk front geen nieuws (Im Westen nichts Neues / All Quiet on the Western Front), E.M. Remarque (November Boekgrrls read)
Season of the Rainbirds, Nadeem Aslam
Tinkers, Paul Harding
1q84 (Boek een, twee & drie), Haruki Murakami (JLit Book Group November/December)
Modelvliegen, Marcel Möring
Thousand Cranes, Yasunari Kawabata (JLit Book Group August)
The Help, Kathryn Stockett (Boekgrrls August read)
Underground, Haruki Murakami
Dagboek van een Geisha (Memoirs of a Geisha), Arthur Golden
Witte oleander (White Oleander), Janet Fitch (bx copy)
Before I Go to Sleep, S.J. Watson
The Woman in the Dunes, Kobo Abe (JLit Book Group June)
Zeitoun, Dave Eggers (Boekgrrls June read; nonfiction)
Verraad, verleiding en verzoening: de rol van eten in speelfilms, Louise O. Fresco & Helen Westerik (nonfiction)
Travels in the Scriptorium, Paul Auster
The Terrible Privacy of Maxwell Sim, Jonathan Coe (Boekgrrls May read)
Bento Box in the Heartland: My Japanese Girlhood in Whitebread America (a Food Memoir), Linda Furiya (nonfiction)
Crime School, Carol O'Connell
All She Was Worth, Miyuki Miyabe (Bookcrossing book ring)
Vegan Family Meals: Real Food for Everyone, Ann Gentry (cookbook; Netgalley e-book)
2666, Roberto Bolaño (readalong)
La Dolce Vegan! Vegan Livin' Made Easy, Sarah Kramer (cookbook)
In the Miso Soup, Ryu Murakami (JLit Book Group February)
Pinball, 1973, Haruki Murakami
Ik haal je op, ik neem je mee (Ti prendo e ti porto via / I'll Steal You Away), Niccolò Ammaniti (Boekgrrls February read)
Geketende democratie: Japan achter de schermen ('Democracy in chains: behind the scenes of Japan'), Hans van der Lugt (nonfiction)
Sneeuwland (Yukiguni / Snowland), Yasunari Kawabata
Blacklands, Belinda Bauer (Boekgrrls Januari read)
Poelie de Verschrikkelijke ('Poelie the Terrible'), Frans Pointl
Hear the Wind Sing, Haruki Murakami
Kalme chaos (Caos Calmo), Sandro Veronesi (Boekgrrls December 2010 read)
Quite the list eh? And I also reread the beautiful short story Het geluid van een stoomfluit midden in de nacht (Yonaka no kiteki ni tsuite / 'A Steam Whistle in the Middle of the Night') by Haruki Murakami.

Thoughts
The book(s) I enjoyed the most this year was Haruki Murakami's 1q84 trilogy. Readers from the Japanese and English speaking hemispheres may wonder why I keep using a lower case 'q' (kyu) when referring to the author's latest work, since it's originally written as 1Q84. Well, the Dutch translators decided to use a small 'q', resembling the number '9' much better!
Volumes 1,2 and 3 together are over 1350 pages thick but I read all three of them in just two weeks. Enough proof of how much I liked it. :) It's a typical late Murakami of which story you should know nothing beforehand.
Reading 1q84 I regularly had to think back to a work of non-fiction I read earlier this year: Underground, about the Tokyo gas attack. It's amazing how delicate Murakami treats the subject, showing more about himself as a person than I ever saw, heard or read in interviews or previous books.
A further special mention goes to another Japanese novel: The Woman in the Dunes by Kobo Abe. A strange story calling up an eerie atmosphere; bordering on a grim fairy tale. The images easily reappear before my mind's eye so I have no problems recalling what this classic is about. Oops, preposition at the end of my sentence again, apologies to Dr Kermode! ;)
So it's all Japanese favourites this year. Figures. ;) One of my intentions for 2012 is to read a little more OUT of my comfort zone. Another post will out-lay the rest of my reading plans for this year. *whispers* I haven't really figured them out yet myself!
Luckily I also very much liked some non-JLit books like Sandro Veronesi's XY (thought-provoking), Remarque's All Quiet on the Western Front (compelling), Belinda Bauer's Blacklands (thrilling) and Dave Eggers' Zeitoun (shocking).
The biggest bone to tackle this year was 2666 BY FAR. It's supposed to be a contemporary classic and comes highly recommended by one of my favourite authors, Kazuo Ishiguro, but it could not charm me. I struggled all the way through to the end and I'm proud to say that I was at least able to finish it! 898 pages of small characters, in English. Gah.
2011 Book charts
As always I'd love to share some pie charts. About the gender of authors read, the ratio of fiction to non-fiction (to faction, which is null ;), where I got my copies from, peer-pressure (!) and the language area from which authors originate.
Gender of authors read
Hm, I'm not completely satisfied with the ratio of female authors to male among the books I read this year.. Needless to say it should be more of a fifty-fifty situation!
Fiction to non-fiction
The fiction / non-fiction chart doesn't show much difference from previous years: I obviously prefer to read fiction — especially now that I'm having 'concentration issues'. O_o
The Pile
I haven't looked at the origin of my books before, but as I seem to have read a lot of books being passed on by other Boekgrrls, I thought I'd analyse that data this year. ;)
Peer-pressure
Oh how I love my peer-pressure. Buddyreads, group reads, readalongs & readathons, challenges, book rings… You name it — been there, seen it, done that. ;) Of course I should also have put in this graph the books I read without any relation to others… Next time, I promise.
Language areas
Now I did not read all of these books in their original language, it's just a vague chart dividing my books into language areas. Most books that are written in English I read in their original language. The same goes for Dutch books. :) The rest I've read in translation to either Dutch or English. Maybe next year I'll try my hand at some German..?
Note: of course Chilean and Pakistani are nationalities, not languages, but you get the idea.
So, did you surpass and/or surprise yourself with the books you've read?
Any favourites you'd like to share?
Did you read any of mine?
Hello Japan! is a monthly mini-challenge focusing on Japanese literature and culture. Each month there is a new task which relates to some aspect of life in Japan. November's mission is to share 'Five Japanese Favourites'.
I guess we're all sorry that this will be the last mini challenge for a while. But we have a fun time to look back upon and as I joined in the first challenge, I couldn't miss the last! As a 'tribute' I decided to list my five favourite Hello Japan! topics for this task!
5 Favourite Hello Japan tasks!
The Hello Japan! mini missions started in 2009, shortly after I stumbled upon In Spring it is the Dawn. Tanabata's blog struck a chord with me and has been one of my favourites ever since. I consider her a friend, even if she lives far away and we've never met. ;) Now that she's moving, I missed the chance of meeting her in Tokyo — but no doubt there will be another chance somewhere else in the future! ;)
Looking back, I really feel like sharing my five favourite Hello Japan! mini challenges.
Looking at this list I seem to like challenges that A. fit exactly in my comfort zones (dôh) and B. leave room for interpretation. I regret that the topics actually relating to Japanese culture didn't make it into my top-5. It doesn't mean I don't like these, because I do! Like Temples and shrines of Kyoto and Japanese flora.
There are also four (nope, not five ;) challenges I desperately wanted to do but didn't get around to.
If you're interested, here are all the Hello Japan! mini challenges I participated in!
I'd like to end with a huge THANK YOU!!! to our generous host Tanabata who thought up this challenge and kept it going for so long. Each time she awarded a fitting prize to one of the participants — and althought the missions would have been just as much fun without them, I'd be lying if I denied these were an incentive. ;) So kudos Tanabata!!!
P.E.D.R.O.
Plan. Edit. Develop. Review. Organise.
From Friday to Sunday I'll be participating in the 4th Bloggiesta Fiesta hosted by our ever faithful Natasha from Maw Books Blog. Since I joined for the 2nd edition I always look forward to this semi-yearly event.
In preparation I've compiled a list of things to do and grouped them into 'quick & easy', 'bigger jobs', 'possible posts to write' and tasks to do 'in advance'.
No way that I'm going to manage all of these chores in just one weekend! I'll just be picking to-dos from different categories as I please. It's weekend and I'm meant to enjoy myself! :)
Like previous times I want to focus on the work I mean to get done, so I'll be keeping mini-challenges and other wogging ('werk ontwijkend gedrag' = displaying work avoiding behaviour) to a minimum — there's always time to check out the other sparkling new blogs when the weekend is over! Though I probably won't be able to ignore #bloggiesta in my twitter timeline ;)

To do in advance
make task list and blog  ✔
prepare starting line post
make bloggiesta template
decide on time frame updates
(template finish line post)
back-up blog
update 'About'-page with pages I'm featured at
clean up sidebar (challenge buttons)
template: ō etc.
edit Sakura lyrics in 2010 Hanami post
add image to blogpost Books Read in 2008
add tag 'weekendcooking' to Weekend Cooking posts
make page 'Read in 2011' for progress on BOTNS +11 reading challenge
write at least 1 recipe or food related post (urgent: ExtraVeganza!)
write at least 1 book related post, preferably 'review' (JLit wrap-up is urgent too)
work on at least 1 post about another subject (relatively urgent: Hello Japan! January mission)
clean up at least some of the last 11 posts in 'Uncategorized' category
clean up Graasland to-do list in Netvibes (categories: 1st thing/later/maybe; and separate list(s) for post subjects?)
create Netvibes tab for ExtraVeganza pilot
clean up/organise rss-feeds in Netvibes tabs: decide on fav blogs to follow
Possible posts to write / drafts to finish
wrap-up reading challenges 2010
movies watched in 2010
sambal bawang or red beet hummus recipe
review of Christmas Quilt/The Sea/Affinity/Golden Pavilion/Pillow Book etc.
Purge that Pantry! Challenge / Eating vegetarian in Funchal, Madeira / Fav Indo Restaurants etc.
etc. etc.
claim graasland domain? (research)
decide on set weekly time to blog
decide on finishing or discarding draft Index Page for film & book reviews
Kookgrrls' weblog
If I feel accomplished enough about the stuff I'm getting done on my own blog, I might also put in some time for the Dutch Kookgrrls' weblog which I'm regularly contributing to.
finish draft Challenge page: rules & link list of previous challenges
post for January challenge: 'cooking out of the pantry'
Experience tells me I might be a little disappointed with the work I'll get done so I'd better not get my hopes up. ;)
Do you want to get some major work done on your blog while partying with the rest of us? There's still time to join!
I know I already did a book-related 2010 wrap-up post, but on Bookie Mee I came across the 2010 wrap-up meme inspired by A Guy's Moleskin Notebook and thought it fun to play along.
So here goes…
The first book you read in 2010: Trespass by Valerie Martin
The last book you finished in 2010: The Christmas Quilt by Thomas J. Davis
The first book you will finish (or did finish!) in 2011: Caos Calmo by Sandro Veronesi

Your favorite "classic" you read in 2010: The Temple of the Golden Pavilion by Yukio Mishima

The book series you read the most volumes of in 2010: Persepolis by Marjane Satrapi and Les Aventures extraordinaires d'Adèle Blanc-Sec by Jacques Tardi (both graphic novels)
The genre you read the most in 2010: literary fiction (quite a lot of it being JLit)
The book that disappointed you: The Evenings (graphic novel) by Gerard Reve & Dick Matena
The book you liked better than you expected to: Blind Willow, Sleeping Woman by Haruki Murakami
The hardest book you read in 2010 (topic or writing style): The Pillow Book by Sei Shōnagon (struggled with it for months and almost gave up!)
The funniest book you read in 2010: Mutts by Patrick McDonnell
The saddest book you read in 2010: this is a hard one.. probably The Wasted Vigil by Nadeem Aslam
The shortest book you read in 2010: 'A Steam Whistle in the Night' by Haruki Murakami
The longest book you read in 2010: The Poisonwood Bible by Barbara Kingsolver
A book that you discovered in 2010 that you will definitely read again: I'm really not much of a re-reader but I know I'll be picking up David Mitchell's The Thousand Autumns of Jacob de Zoet again: I just won a Dutch copy and because of the games Mitchell played with my language in the English version, I'm curious to know how it was translated. I've heard the author say he liked what the translators did, so… That's why I worked so hard a winning a copy ;)
A book that you never want to read again: Thomas J. Davis' The Christmas Quilt; not that it wasn't a cosy read for the holidays, but once is enough
And finally, make a New Year's Resolution: since 2010 was a slow reading year I plan to read more — in time as well as amount of books; at least 11 more to be precise (Books on the Nightstand +11 reading challenge) BUT I won't give in on quality over quantity!
And what's the relevance of cat pictures in this post?
Absolutely none. :)
They're just my cuties that almost didn't make it into the new year.
And I'm awfully grateful they did.

Yup, it's that time of year again: here's my 2010 books wrap-up!
I've read 29 books in total, which is six less than last year and approximately brings me back to the level of 2008.
I've made a photo of some (not all!), of the books I particularly liked!
Two of the books read this year were comics, five graphic novels, meaning 22 were either novels, novella's or collections of short stories.
It took me a while to decide on my favourite read of the year. There were two candidates but I finally figured it out. So… let's hear the drumroll!
Best Book of 2010
The Very Best Book I read in 2010 is The Wasted Vigil, by Nadeem Aslam. It's absolutely gorgeous and I hate myself for not picking it up earlier, since I've had in on the shelf from the moment it came out in 2008. I had equally loved Maps for Lost Lovers when I read it so Aslam now deserves to be listed among my (few) favourite authors! That's a spot right along David Mitchell, Barbara Gowdy and Haruki Murakami: novelists of whom I've read, or will read, each and every book. So I'm waiting for Aslam's 1993 début to arrive in my mailbox: Season of the Rainbirds. Don't you just love that title? ;)
Second Best Book of 2010
Close upon the heels of The wasted Vigil is (not surprisingly) The Thousand Autumns of Jacob de Zoet, the latest novel by my all-time favourite David Mitchell. It was a real tiebreak but I figured I was probably a teeny weeny bit unfairly favoured to Mitchell just because I love his work so much and had been looking forward to his new book since Black Swan Green, in 2006. Then again, that might speak in favour of 'Jacob de Zoet' because novels eagerly anticipated often disappoint.
List of books I read in 2010
For those of you who are curious, or just plain addicted to lists (like me), here's the complete pile of books I read in 2010. The ones that particularly stand out looking back on my reading adventures, I've given a bold title.
Trespass, Valerie Martin (2007)
The Best of Mutts, Patrick McDonnell (2004)
The Housekeeper and the Professor (Hakase no aishi ta sūshiki 博士の愛した数式, translated by Stephen Snyder), Yoko Ogawa (2003/2008)
De avonden (1) (The Evenings), Gerard Reve; Dick Matena (1947/2004)
The Rapture, Liz Jensen (2009)
In the Shadow of No Towers, Art Spiegelman (2004)
Careless in Red, Elizabeth George (2008)
I Am a Cat III (Wagahai wa neko de aru 吾輩は猫である, translated by Aiko Ito; Graeme Wilson), Natsume Sōseki (1907)
Een stoomfluit midden in de nacht (Yonaka no kiteki ni tsuite / 'A Steam Whistle in the Night', translated by Jaques van Westerhoven), Haruki Murakami (2003 (2006))
Het Hoofdkussenboek van Sei Shōnagon (Makura no Sōshi 枕草子 / The Pillow Book, translated by Paul Heijman), Sei Shōnagon (1002/1986)
Blind Willow, Sleeping Woman (Mekurayanagi to, nemuru onna, translated by Philip Gabriel; Jay Rubin), Haruki Murakami (2005)
Her Fearful Symmetry, Audrey Niffenegger (2009)
The Thousand Autumns of Jacob de Zoet, David Mitchell (2010)
Silence (Chinmoku 沈黙 , translated by William Johnston (?)), Shusaku Endo (1966)
The Sea, The Sea, Iris Murdoch (1978)
Affinity, Sarah Waters (1999)
The Poisonwood Bible, Barbara Kingsolver (1998)
The Catcher in the Rye, J.D. Salinger (1951)
Persepolis (translated byMattias Ripa), Marjane Satrapi (2003)
Persepolis 2 (translated by Blake Ferris), Marjane Satrapi (2004)
Remainder, Tom McCarthy (2007)
Mutts: Dog-eared, Patrick McDonnell (2004)
Het volgende verhaal (The Following Story), Cees Nooteboom (1991)
Isabelle Avondrood: Isabelle en het beest (Adèle et le bête, translated by René van de Weijer (?)), Jacques Tardi (1976)
Isabelle Avondrood: Allemaal monsters! (Tous des monstres, translated by René van de Weijer), Jacques Tardi (1994)
Soulless, Gail Carriger (2009)
Het Gouden Paviljoen (Kinkakuji, translated by C. Ouwehand), Yukio Mishima (1966)
The Wasted Vigil, Nadeem Aslam (2008)
The Christmas Quilt, Thomas J. Davis (2000)
Which of these books have you read? Did you like them?
There are several classics in the list, including Japanese. Graphic novels and comics were a new adventure in 2010; although I tried my first during the October 2009 read-a-thon, I read many more this year — upgrading my level from Beginner to Intermediate in the Graphic Novel Challenge.
Other genres outside my usual reading nook: Apocalyptic (The Rapture), GLBT (Affinity), paranormal romance (urban fantasy) / ghost stories (Soulless, Her Fearful Symmetry).
All of these I particularly enjoyed!
More statistics
Original language

Read in translation or the original language?

Gender author

Century of publication

Except for a challenge wrap-up post, that's about it for 2010. Book-wise I mean: I'll need to work on my list of movies next! How are you doing evaluating last year?
The Sunday Salon is a virtual gathering of booklovers on the web, where they blog about bookish things of the past week, visit each others weblogs, oh — and read ;)
Yesterday I was so busy getting my buddy review of Blind Willow, Sleeping Woman online with Elsje that I missed out on the Sunday Salon. Same thing happened last week, so today I decided to join in Sheila's weekly meme on Book Journey: It's Monday! What Are You Reading? to bring you up-to-date.
I finshed reading Shusaku Endo's book Silence for the Japanese Literature Book Group and Japanese Literature Challenge #4 on June 10th. I hope I'll manage to review the book before the discussion starts on June 28th! Because it is set in Japan just after the country has been closed to foreigners (except Dutch), it was quite appropriate to read after The Thousand Autumns of Jacob de Zoet (which I hope to review soon too) and it also brought to mind The Bridge of San Luis Rey and one of my all-time favourite movies The Mission.
After Silence I picked up some Dutch nonfiction about Japan: Geketende democratie, Japan achter de schermen by Hans van der Lugt. It hasn't been translated into English (yet) but literally the title means 'Democracy in Chains: Behind the Scenes in Japan'. Hans van der Lugt has been a correspondent in Japan for one our national newspapers (NRC Handelsblad) from 1995-2006. It's an interesting book but I feel like reading a novel as well so I'll be starting The Sea, The Sea by Iris Murdoch in the next few days. We're going on a short trip to one of the Wadden Islands in the North Sea so a book with such a title seems appropriate. It is also part of my personal challenge and the What's in a Name challenge — I'll be happy to finally cross it off my wishlist!
I'm still keeping up with the Sei Shonagon's The Pillow Book read-along. I've read all my entries for this week (#110 in the Morris edition) but I just don't have anymore time to tell you all about it. That'll have to wait to another Sunday Salon — or It's Monday! What Are You reading? :)

Yay, the third Bloggiesta has started! I can't believe I almost missed it… I guess I haven't been paying attention to twitter nor my feed-reader. My excuse is that I have this annoying cold — which I probably got from David Mitchell when I saw him in Teylers Museum on Saturday, so who's complaining ;) Of course I should have just marked my calendar for June's Bloggiesta right after January's.
Anyway, although my head feels like $%#@&*$#$ and I've got other plans for the weekend, I'm going to try and squeeze in some tasks from my Graasland to-do list. Can't let a Bloggiesta party go by without participating — especially since I really need it at the moment!
Before Monday 8am (GMT+1) I hope to spend 12 hours on the following jobs:
backup my blog ✔
finish most recent backlog posts about this week's csa vegetable bag and today's bento (how convenient that I don't need to take a break for preparing lunch because it's already waiting for me!) ✔
write 1 book review, preferably David Mitchell's The Thousand Autumns of Jacob de Zoet
spend 15 minutes on putting previous posts containing recipes (or links to recipes on other websites) in the Recipe category I created a short while ago ✔
add archive post for books read in 2002 ✔
spend 30 minutes on cleaning up old imported posts (tagged 'Uncategorized'; 9 left)
I probably can't do it all in the set amount of time — especially since I plan to visit, comment on, cheer & tweet other participants as well and I really need my sleep these days — but at least you know what my priorities are. I'll probably leave the mini-challenges for what they are ;)
If possible I'd also like to work on some other posts that have been high on my priority list for quite some time (the ones that are really bugging me):
my buddy review with Elsjelas of Murakami's Blind Willow, Sleeping Woman
my guest post for the 100 Mile Fitness Challenge
report of David Mitchell's talk in Haarlem (combining it with my review of 'The 1000 Autumns' will probably turn out too difficult)
review of Shusaku Endo's Silence (Japanese Literature Book Group read for June & my first book in the 4th Japanese Literature Challenge)
So much to do, so little time ;) How fortunate that Mr Gnoe is dining out and will be home late today! :))
The Sunday Salon is a virtual gathering of booklovers on the web, where they blog about bookish things of the past week, visit each others weblogs, oh — and read ;)
2009 was a good year for reading. I completed 35 books (5 more than last year) and I didn't put any aside because I found them too disappointing. My eyes have goggled a total of 10.038 pages ;)
2009 FIRSTS:
I'm afraid I have a lot of 'wrapping up' to do on my challenges — writing reviews and wrap-up posts — so thank god for next weekend: it's Bloggiesta!
Now, the highlights of 2009…. (drum roll)
BESTEST book: The Grapes of Wrath by John Steinbeck (published in 1939)
I would never have guessed it would end as my best read of 2009. I had a hard time getting into the book, especially because of the 'epic' chapters intertwining the story of the Joad family during the Great Depression in the US. But it really got under my skin. And looking back The Grapes of Wrath definitely made the biggest (and a long lasting) impression.
I still need to review it so I guess it'd better be one of the first to tackle. (Review added)
SECOND best book: The Old Capital by Yasunari Kawabata (1962)
I had never heard of Nobel Prize winner Yasunari Kawabata, even though I've been reading Japanese authors for a while now. So I'm really glad I got to know him thanks to the Japanese Literature Book Group that started this year. Again, I haven't reviewed this book yet :\ But I absolutely loved the detailed descriptions of Kyoto and Japanese culture. It reminded me of last year's favourite: The Teahouse Fire by Ellis Avery. But The Old Capital is way more subtle — Japanese, where The Teahouse Fire is recognizably American in comparison. So, another review that's high on my to-do list.
Worst book: Butterfly in the Wind by Rei Kimura (2000)

What do you know, I do have a review of this year's worst read on Graasland! ;) That's because it was the first book I read for the Japanese Literature Challenge (for which I actually only needed to read 1 book, but why stop, especially after such a disappointment? ;) I read Butterfly in the Wind in Dutch (Vlinder in de wind) and found the content, the way the story was told ánd the translation all h o r r i b l e.
I have thought of listing more books especially worth mentioning, but I had many good reads this year so I'll just give you the whole lot of them. The first title (Silk) was read last, the last of the list my first book of 2009 (Falling Angels). Are there any of these you would have picked as your best read?
Zijde (Seta / Silk), Alessandro Baricco
The Gargoyle, Andrew Davidson (online reading group)
I am a cat (Wagahai wa Neko de Aru), 2nd volume, Natsume Sōseki (Japanese Literature Read-along, JapLit Challenge)
The Old Capital (Koto 古都), Yasunari Kawabata (Japanese Literature Reading Group)
Persuasion, Jane Austen audio book
In Cold Blood, Truman Capote (November Book Group read; What's in a Name)
I am a cat (Wagahai wa Neko de Aru), 1st volume, Natsume Sōseki (Japanese Literature Read-along, JapLit Challenge)
Coraline, Neil Gaiman (graphic novel)
De pianoman, Bernlef
Be With You (Ima, Ai ni Yukimasu), Takuji Ichikawa
The Grapes of Wrath, John Steinbeck ((multiple) challenge book) TNX to boekenxnl for this rabck!
Revolutionary Road, Richard Yates (Classics challenge; online reading group)
Het Pauperparadijs, Suzanna Jansen (non-fiction)
To Kill a Mockingbird, Harper Lee (Bookcrossing bookring / (multiple) challenge book)
Vlinder in de wind (Butterfly in the Wind), Rei Kimura (Japanese Literature challenge book)
Away, Amy Bloom (online reading group)
The Mapmaker's Wife, Robert Whitaker (Bookcrossing bookring / What's in a name challenge book)
What came before he shot her, Elizabeth George (What's in a name challenge book)
With no one as witness, Elizabeth George
Zo god het wil (Crossroads / Come Dio Comanda), Niccolò Ammaniti
De inboorling, Stevo Akkerman
Ten zuiden van de grens, ten westen van de zon (Kokkyo no minami, Taiyo no nishi / South of the Border, West of the Sun), Haruki Murakami
De kleine keizer ('The Little Emperor'), Martin Bril (What's in a name challenge book)
Nikolski, Nicolas Dickner (ring)
Brideshead Revisited, Evelyn Waugh ((multiple) challenge book / bookgroup)
Slam, Nick Hornby
Notes from an exhibition, Patrick Gale
Rivier der vergetelheid (Meuse l'oubli), Philippe Claudel
Dans dans dans (Dansu dansu dansu / Dance dance dance), Haruki Murakami
The Remains of the Day, Kazuo Ishiguro ((multiple) challenge book)
Grijze zielen, Philippe Claudel (What's in a name challenge book)
The National Trust for Scotland: Brodie Castle (non-fiction)
De ijdele engel, Godfried Bomans
The End of Mr Y, Scarlett Thomas (TNX to rapturina for this rabck!)
Vallende engelen (Falling Angels), Tracey Chevalier
The 'stats' (for real geeks like me ;) will have to wait until another day. But here's what I read in 2008 and in 2007 — for those of you who haven't had enough yet (are you also from the Eighties generation, too fond of making lists? ;)
My Google map will show you my Bookcrossing releases of all-time. Making a sidebar button for it is one of my wishes for next week's Bloggiesta! As is, maybe, a special page where I can bring my year lists together?
Coincidently (dôh) this week's Booking Through Thursday wants to know exactly what I've been talking about today!