You are currently browsing the tag archive for the 'david vann' tag.
The Sunday Salon is a virtual gathering of booklovers on the web, blogging about bookish things, visiting participating weblogs, and oh — reading books of course ;)
For 2015 I chose to set a goal on Goodreads. 2013-2014 had been slow book-wise, reading no more than 16 resp. 18 volumes. I was too embarrassed frustrated to even post the lists! ;) That's why a target of 20 seemed a bit of a challenge for 2015, but doable.
<insert drumroll please…> YAY! I surpassed my goal by 9!!! Making a total of 29 (listed further on), whisping me back to the level of 2012. #happydance
For 2016 I won't be aiming at a certain amount of books. Rather I'd be reinforcing the habit of reading more regularly. Once I've figured out the details I'll share them.
BOTNS Book Bingo
What helped keep me motivated the past year was the Books on the Nightstand Summer Book Bingo. I generated a card and though I didn't really pick my books according to the squares, it was fun checking where a read would fit and crossing it of. My friend Muizz was also playing, which made it even more fun. You should've heard me scream "BINGO!" once I got a full row completed! *grin*
Books read in 2015
Listed from most recently to early 2015:
The Mutts Winter Diaries ~ Patrick McDonnell
Terug naar Oegstgeest ~ Jan Wolkers
The Fire Kimono (Sano Ichiro, #13) ~ Laura Joh Rowland
De fietser van Tsjernobyl / El ciclista de Chernóbil ~ Javier Sebastián
History of a Pleasure Seeker ~ Richard Mason
Hug Time ~ Patrick McDonnell
Gevallen God / A God in Ruins ~ Kate Atkinson
Legend of a Suicide ~ David Vann
Potifars vrouw ~ Sophie Zijlstra
The Children Act ~ Ian McEwan
The Life-Changing Magic of Tidying Up ~ Marie Kondō
Globejotting: How to Write Extraordinary Travel Journals (and Still Have Time to Enjoy Your Trip!) ~ Dave Fox
The Buried Giant ~ Kazuo Ishiguro
De kat / 猫の客 / Neko no kyaku ~ Takashi Hiraide
Wachten op woensdag (Frieda Klein #3) / Waiting for Wednesday ~ Nicci French
Just One Evil Act (Inspector Lynley, #18) ~ Elizabeth George
Het boek van wonderlijke nieuwe dingen / The Book of Strange New Things ~ Michel Faber
Handleiding voor poetsvrouwen / A Manual for Cleaning Women: Selected Stories ~ Lucia Berlin
Geen gewoon Indisch meisje ~ Marion Bloem
Fox Evil ~ Minette Walters
Believing the Lie (Inspector Lynley, #17) ~ Elizabeth George
Housekeeping ~ Marilynne Robinson (audiobook)
Ik kom terug ~ Adriaan van Dis
Oorlog en terpentijn ~ Stefan Hertmans
Timothy's Book: Notes of an English Country Tortoise ~ Verlyn Klinkenborg
The Rise & Fall of Great Powers ~ Tom Rachman
Maandagskinderen / Synir Duftsins ~ Arnaldur Indriðason
The Strange Library ~ Haruki Murakami
How to Be Both ~ Ali Smith (audiobook)
Some new or recent, some classics, some bulky — others slim, many Anglo authors, less Dutch and a few other nationalities, hardcore literature and non-fiction next to easier stuff like mysteries/thrillers. Being easy on myself I read English language books more often in Dutch translation than usual.
Have you read any of these books?
The Year of the Daves (aka Favourite Reads of 2015)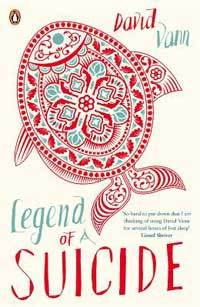 Looking back, the novel that left most of an impression is Legend of a Suicide by David Vann. It had been waiting patiently on my shelf for years — and didn't disappoint! I don't feel I've read anything like this collection before: gruesome, dreary, but touching at the same time. A rough diamant.
The most fun I had with Globejotting, a manual for travel journal keeping. It has helped me a lot and I can't wait to start over, doing all exercises.
Depending on time and inspiration I'll write a follow-up about some other highlights of 2015. For now: curl up on the couch and have a cosy Sunday!