You are currently browsing the tag archive for the 'quote' tag.
While the weather is turning rather nasty as if to mourn, the fall edition of Dewey's 24 hour readathon has ended. And I'm SO glad I participated! It remembered me of 'old times'… making me all warm and glowy inside. ;)
What I read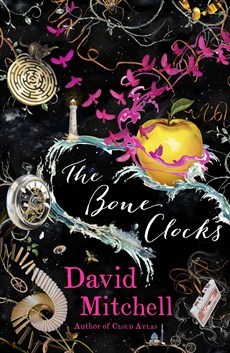 As planned I immersed myself in The Bone Clocks by David Mitchell and got some 20% down. Love it! I'm glad it's a tome and I still have the majority to go. :) I'm sorry I can't give you a short summary of this magical realist novel yet – I'll have to see where it's going first! The birthday party that broke up this RaT was of family I hadn't seen in a long time. Of course I was very eager to see and speak to everyone, but it didn't take long or I longed to be back in 'Mitchell-verse'.
During some housework I also listened to a short story on audio by Esther Verhoef, called Nouveau Riche. I hadn't read anything from her yet and I now don't think I will again. The account of expats in France reluctantly receiving friends from the past was largely predictable and not at all exciting. It was… just okay I guess.
The numbers
To help me keep track of time I used the Timelytics Time Log app on my phone. Handy!
Total of time read: 6:55
Of which the audiobook took: 0.55
This surprised me as it feels like I read for more than a scant seven hours. I could have gotten in another one at the end but I was hungry and got distracted by making lunch. Before I knew the readathon was over! :( But I'm not going to let that spoil my mood: it was fun and I haven't read this much in twenty-four hours for a long time!
Already planning next time!
In my start-up post I didn't know yet where I'd pop up in cyberspace. It happened to be on twitter (where I hadn't been for a long time either; it's becoming a theme! ;) Twitter is quick and dirty easy, which makes it perfect if you want to feel connected but spend not too much time at your computer or mobile device. And socializing, I realized, is something I really love about Dewey's readathon and missed some of the previous times I participated. A big thank you to Cautious' Katja B. (@eeyorenyk) whom made me aware of it (ánd was a faithful cheerleader).
Jotting down my plans for next time here so that I'll know where to find them in six months time.
I'll try to completely clear my schedule so I can devote the full 24 hours to the readathon.
I'll reserve some time for socializing — and to keep me to it I may even sign up as a cheerleader!
I'll return to pre-readathon planning:
think about food & snacks; prepare some meals in advance (including a lentil-, pasta – or couscous salad and possibly lasagne or casserole),
line up some audio books for when I can't read a physical copy and make an actual schedule for when to use these,
revive my 'readathon update post' template,
get some drafts set up.
Edited to add after listening to other participants' experiences:
read successive books from a (familiar) series – for example the Parasol Protectorate series by Gail Carriger (I'm up to #3 Blameless);
go read in a library for a while.
Last but never least

I really enjoyed seeing familiar faces names in my time-line – old times relived! My IRL readathon buddies were Mr Gnoe and da kittehs Nina and Kuki, one on each lap (from me and hubs that is). A fun fact is that Mr Gnoe and I are both reading the same book; he's got the paper -limited edition- copy and I have my Kobo e-book. Can you imagine anything more cosy? :D
I'd like to thank all cheerleaders, hosts and participants whom made this readathon a success. And I salute the memory of Dewey, without whom we never would've had this marvellous event. I wonder if it's a (perfect) coincidence that there was a cameo of Professor Dewey in The Bone Clocks today???
She notices the ladybird on his thumb. 'Tentô-mushi.'
In his eagerness to comprehend, he mishears: 'O-ben-tô-mushi?'
'O-ben-tô-mushi is "luncheon-box bug".' She smiles.'This,' she indicates the ladybird, 'is O-ten-tô-mushi.'
'Tentô-mushi,' he says, and she nods with a schoolmistress's approval.

[David Mitchell: The Thousand Autumns of Jacob de Zoet, p.121]
In my post about bento #101 I mentioned I'll be celebrating my 3rd year as a bento-grrl next month, on June 16th to be precise. In the past years I haven't really indulged in buying many (and more) bento boxes. I purchased four for myself in those early days — not counting Mr Gnoe's box — and one of them broke on the way back from last year's hanami picnic.
You could say I own a box a year ;) I've behaved so well all this time!
Well, up until now. I figured I deserved something new for my 3-year anniversary :) Here's where the discount offer I had received from Bento & Co for participating in the 2010 Spring Bento Contest on JustBento came in handy… Of course I had a hard time choosing which box to buy — and ended up doubling my bento stock in one click. Many thanks Maki & Thomas! ;)
I also couldn't resist the cute hashi (chopsticks) in kimono fabric matching my blossom bento. I feel happy now. And hope to have satisfied my lunchbox hunger for the next 3 years ;)